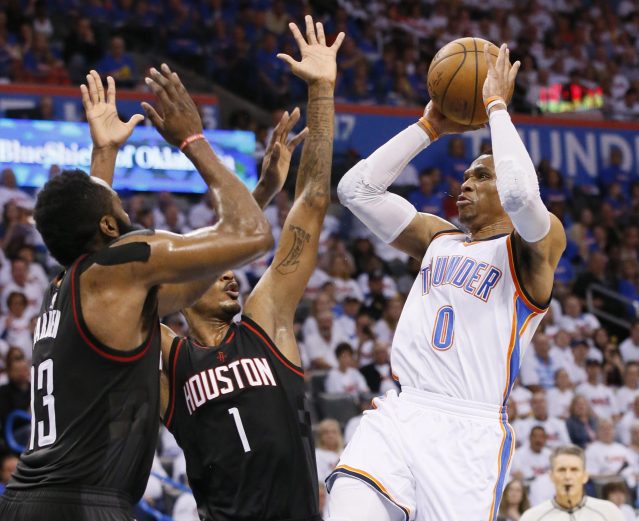 Maximize Your Profits Betting the Thunder-Rockets Series
Betting on futures continues to grow in popularity, but there are many perils with this bet type. Although bettors can find undervalued teams and mispriced lines, offshore sportsbooks often charge an exorbitant juice, accept small limits, and force bettors to have their funds tied up for months. In general, we don't recommend betting futures but that's particularly true in single elimination situations.
There are many instances where playoff teams can be facing elimination whether it's the NCAA Tournament, NFL Playoffs or their opponent is one win away from advancing to the next round. Rather than placing one wager on a future, bettors could instead roll over the moneyline and take their preferred team to win straight up. Need proof that this is a profitable strategy? Let's look at a prominent example from last year's NBA Playoffs.
In the 2016 NBA Finals, the Golden State Warriors took a 3-1 series lead against the Cleveland Cavaliers. Facing elimination, the Cavs were +850 to come back and win the series. That meant a $100 bettor would be paid $950 when Cleveland accomplished the unthinkable – an $850 profit plus their initial wager. However, let's examine the outcome if bettors had simply rolled over the moneyline.
The Cavs closed as +185 moneyline underdogs in Game 5, meaning a $100 bettor would have netted $285. The Cavs closed as -128 moneyline favorites in Game 6, meaning that same bettor would have netted $507.66 by taking that $285 and rolling it over on the following game. The Cavs closed as +166 moneyline underdogs in the decisive Game 7, meaning that same bettor would have earned $1350.38 by taking their $507.66 earnings and rolling over the moneyline one final time.
Bettors would have enjoyed substantial profits if they took Cleveland to win the series, but they would have maximized their profits by avoiding futures and rolling over the moneyline instead. That same strategy can be applied for bettors who believe Russell Westbrook and the Oklahoma City Thunder can rally from a 3-1 deficit to defeat the Houston Rockets.
The Rockets are currently -3500 to win the series at 5Dimes, with the Thunder listed at +1750. That means a $100 wager on Oklahoma City would yield $1850 if they're able to win three consecutive games. That's would be a nice payday and there are definitely bettors who believe Westbrook can will his team to victory — especially considering that Oklahoma City has led for 128 of 192 minutes in the series.
The Thunder are +285 on the moneyline for tonight's game in Houston, meaning a $100 wager would yield a total return of $385. If we assume the moneyline for Game 6 in Oklahoma City is the same as it was for Game 4 (-115), rolling over that $370 would yield a total return of $715.78.
Even if we assume that oddsmakers shade their line of account for public betting (it's fair to assume bettors would be taking the plus money on Oklahoma City following consecutive wins), the Thunder would still be around +270 on the moneyline for the decisive Game 7. A wager of $719.78 at +270 odds would yield a total return of $2663.19. That's far more money than bettors would earn by simply taking the series price.
| Game Number | OKC Moneyline | Initial Wager | Profit | Total Return |
| --- | --- | --- | --- | --- |
| 5 | +285 | $100 | $285.00 | $385.00 |
| 6 | -115 | $385 | $334.78 | $719.78 |
| 7 | +270 | $719.78 | $1943.41 | $2663.19 |
I'm not recommending that bettors roll over the Thunder moneyline in each of the next three games, but any bettors who believe Oklahoma City will rally to defeat Houston should clearly be rolling over the moneyline instead of betting on the series price. Another perk of rolling over the moneyline is that you're not locked into a long-term wager, and can bail out at any time.
At the time of publication, the Thunder were receiving just 38% of moneyline tickets and 27% of moneyline dollars, but we encourage all bettors to visit our free NBA odds Page for the latest odds, betting percentages and injury updates.
Have any questions for the staff at Sports Insights? Make sure to utilize our live chat or call us directly at 877-838-2853.