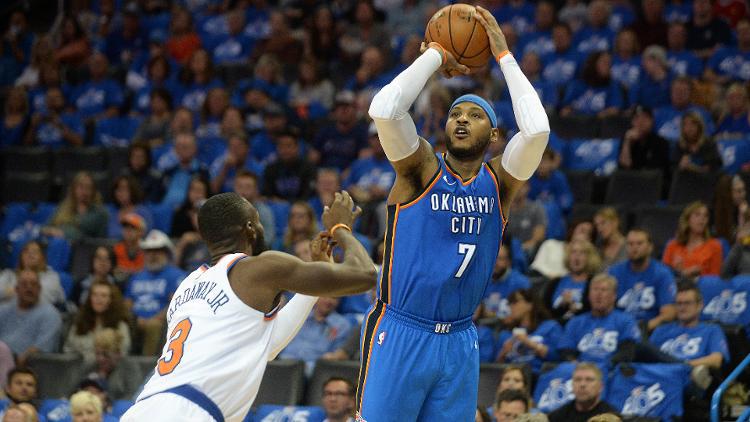 Line Movement on OKC in Carmelo's Return to NYC
Carmelo Anthony spent six seasons in the New York Knicks organization before moving on to the Oklahoma City Thunder in the offseason. Carmelo expects this to be a sentimental return, but how will Knicks fans respond? "Walking in there, it'll be a little emotional, because from the standpoint, that's home," he said. "Being back in there, being on the other side, running out the other side of the tunnel, seeing people that I became close with, seeing my family that I can't really much right now because I'm in Oklahoma City — my son, my wife — seeing them, having them be there is very important. So I think it'll be a fun game, a fun night. Emotional as far as excited being back on that court." (ESPN)
OKC is coming off a thrilling triple-overtime win over Philadelphia Friday night, 119-117 and Russell Westbrook put in another monster effort, including this dunk over Dario Saric.
HOLD THIS BRODIE BOMB SARIC. SNARLBROOK BACKKKK ??? pic.twitter.com/8UA7QF32Pi

— Rob Perez (@World_Wide_Wob) December 16, 2017
Friday's three-overtime game hasn't kept bettors from taking the Thunder against the Knicks on Saturday night. Oklahoma City opened at -2.5, and has since moved to -3.5. The status of Knicks C/F Kristaps Porzingis (knee) is crucial, and the early line movement suggest he's closer to doubtful than probable. At the time of publication, the Thunder were getting 58% of spread tickets: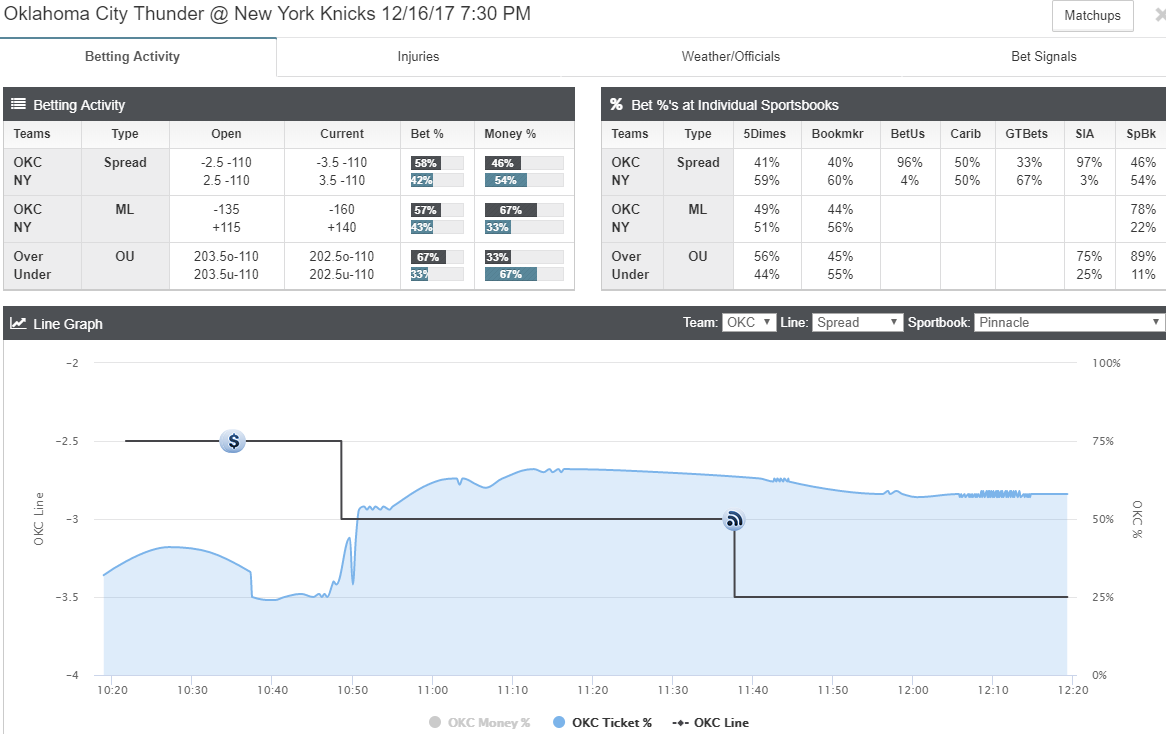 The screenshot above is taken from our Pro Live Odds dashboard. In the top left you can easily view the open and current odds, along with the ticket and money %'s. OKC has moved from -2.5 to -3.5 on the spread and from -135 to -160 on the moneyline. We've also seen sharp money on the Under, moving from 203.5 to 202.5. Only 33% of bets are on the Over, but 67% of money wagered has come in on the Under. This is a sure sign that smarter bettors like this game to go under the total.
If you look at the top right of the dashboard, you'll see the betting breakdown at our 7 contributing offshore sportsbooks. The majority of bets at sharper books like 5Dimes and Bookmaker has been on NY, but the majority at squarer books like BetUS and SIA is on OKC. Keep in mind, sharp bettors take numbers, not teams. At -2.5 and -3, they preferred OKC, but now that the line has increased to -3.5, we've seen buyback on the Knicks.
Lastly, if you check out the line graph, you'll notice two icons: $ and Steam. These represent bet signals around the market which cause sportsbooks to shift their numbers. As you can see, these signals came in on the Thunder at -2.5 and -3, even though less than 50% of the early action was on OKC.
Will Carmelo and company leave NY victorious Saturday night, or will the Knicks snatch their 4th straight win?