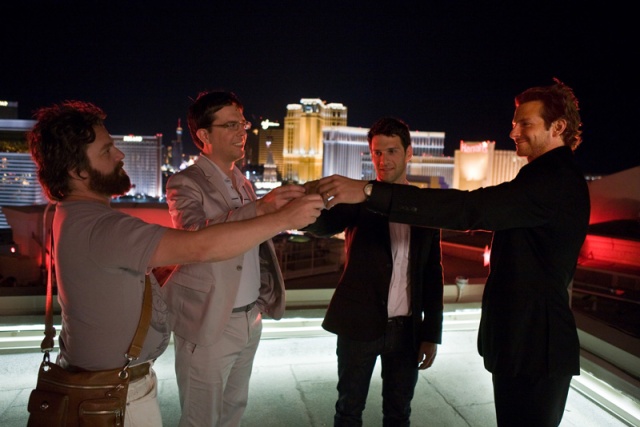 Las Vegas Sports Betting Vacations for Dummies
The 2017 football season is inching closer, meaning bros around the world are packing their favorite tanks and preparing to embark on Las Vegas sports betting vacations. With this in mind, I polled the staff at Sports Insights for tips, tricks and advice to pass along to ensure a fun and hopefully profitable vacation.
1. What is your favorite sportsbook for betting/sweating games?
John Ewing (Bet Labs Director of Analytics): "Westgate because I know the bookmaker and he gives me free booze and food. I highly recommend befriending someone behind the counter in Vegas".
Carl Sack (Analyst): "South Point because it's very laid back and not too busy. Westgate is also a good choice if you're looking for a big, modern sportsbook".
PJ Walsh (VP of Operations): "The easy answer is Westgate. NASCAR is my favorite sport to bet and they offer lots of wagering options. If you want to stay closer to center strip, Mirage is my favorite."
Kevin Cassata (Developer): "Westgate, runner-up Bellagio. Really anywhere with a beer is fine."
2. Other than a sportsbook, where is your favorite place to watch games?
John: "In the poker room. 'Rolled up aces over kings. Check-raising stupid tourists and taking huge pots off of them!' Bonus: the poker room and sportsbook are often next to each other."
Carl: "I don't know. I feel like I'm always at a book when watching games."
PJ: "Earlier this summer I sweated some MLB day action at Beer Park (rooftop at Paris). It's a really cool, outdoor spot with plenty of TV's and they were very accommodating to ensure the games we wanted to watch were visible from our table."
3. Any tips on the best ways to get free or cheap drinks?
John: "If you are going to bet sports, many sportsbooks require a $50 bet to get a free drink. Dip your toe into horse betting while there. The minimum for a drink ticket is usually much lower ($10), plus you can win money on the ponies!"
Carl: "Visit South Point, their sportsbook is generous with drink tickets."
PJ: "I've always done better splitting up my bets with multiple trips to the window. For example, if you're betting $100/game and plan to bet five games, don't bet them all at once and instead make two or three trips. The downside is you may lose the number you want, but this question is about drinking value, not sports betting value.
And when you're betting, bet sure to ask for drink tickets. This will often get you a few extras if you're nice and tip your writer."
Kevin: "I usually just play video poker really, really slow."
4. For those who will be bringing wives, girlfriends, sugar mamas and/or stage 5 clingers, what's your favorite restaurant on the strip?
John: "Who has time to eat? I drink my calories."
Carl: "Lotus of Siam. It's 1/2 mile east of The Stratosphere, so not technically on the strip."
PJ: "I make a point to eat at Mon Ami Gabi (Paris) every trip. Shake off a night of glitter and Fireball with a trip to their Bloody Mary bar. Make sure to get a table outdoors as the hair of the dog will get your head right while your lady finds the Bellagio water show as romantic as you find backdoor covers."
Kevin: "Prime Steakhouse (Bellagio), but don't bring your frat brothers or they will make a fool of you (not that I know)."
5. What's the best place for quick/cheap eats on the strip?
John: "See my answer to #4."
Carl: "In-N-Out Burger."
PJ: "Get the $7 Nachos at Gordon Ramsay Pub and Grill (Caesars Palace) during their Happy Hour. It's enough to share with someone and satisfy a daydrinker's hunger, yet not so much to weigh you down."
Kevin: "Secret Pizza (Cosmopolitan) or Holstein's Shakes and Buns (Cosmopolitan) is good."
6. Any other tips for those embarking on a Las Vegas sports betting vacation?
John: Don't get an infected gallbladder!"
Carl: " If you want to do a parlay bigger than 3 teams, it's usually better to keep them to 3 teams or less and roll the winnings over as many books charge a lot of juice on 4+ team parlays."
PJ: "Use the monorail, especially if you're heading to Westgate from the strip. It's air-conditioned, allows open containers and affordable."
Kevin: "Nothing beats watching a big horse race in Vegas."
Have you own suggestions or advice for those heading to Las Vegas? Leave them in the comments section below.