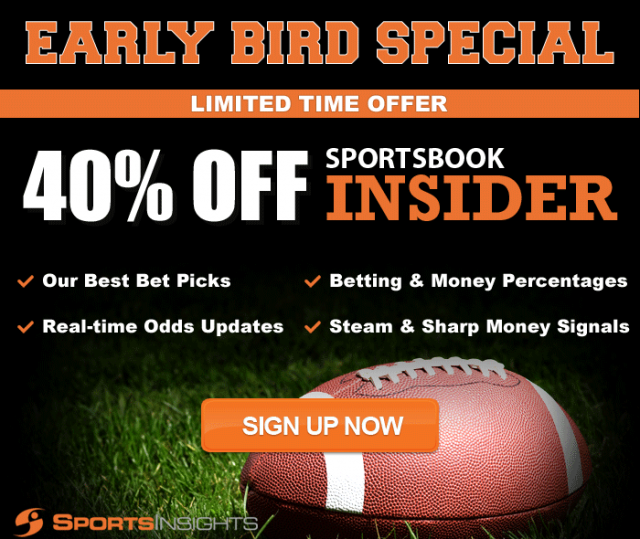 It's Back! The 2016 Early Bird Special is Here!
Football is back and so is the Early Bird Special! With our best deal of the year, subscribers will receive up to 40% off Sportsbook Insider Pro. Sign up today and you will receive service for the entire NFL regular season. This subscription runs through January 3, 2017, which means the sooner you buy, the better the value.
The Pro membership includes real-time odds from over 40 sportsbooks, public betting trends, money percentages, bet signals (steam and reverse line movement alerts) and access to our exclusive Best Bet picks. That includes access to our highest membership level for all available sports including NFL, NCAAF, NBA, NCAAB, MLB and more.
Our Best Bets have been historically profitable for all five of these major sports. The table below displays the Best Bet record for each sport since 2010.
| Sport | Record | Win Rate | Units Won | ROI |
| --- | --- | --- | --- | --- |
| NFL | 235-202 | 53.8% | +15.33 | 3.5% |
| NCAAF | 325-294 | 52.5% | +4.77 | 0.8% |
| NBA | 823-683 | 54.6% | +69.93 | 4.6% |
| NCAAB | 933-770 | 54.8% | +84.04 | 4.8% |
| MLB | 1669-1895 | 46.8 % | +93.21 | 2.6% |
It's been a busy summer at Sports Insights, and earlier this week we released a brand new version of our live odds page! With improved update speeds and more customization options, we have made it easier than ever to find value in the sports betting marketplace. Some of the biggest improvements include:
Live Odds: New features, faster updates, and improved navigation.
Bet Signals: Improved layout to make sure you can get access to winning signals faster and easier.
Money Percentages:

Know where actual dollars fall on each side of the spread, moneyline and total. You won't find this anywhere else – it's an exclusive feature for Sportsbook Insider subscribers.
Hurry, our Early Bird Special expires on September 11th!
Sign up now and you'll receive Sportsbook Insider Pro through January 3, 2017.
Already a Sports Insights subscriber?
You can still take advantage! Any existing time on your current membership will be added to the Early Bird Special's expiration date of January 3, 2017, meaning you won't lose a single minute of what you've already paid for.
If you have any questions or would like assistance upgrading your account, contact our customer service department at 877-838-2853, email us at help@sportsinsights.com or utilize our live chat to speak directly with a representative.