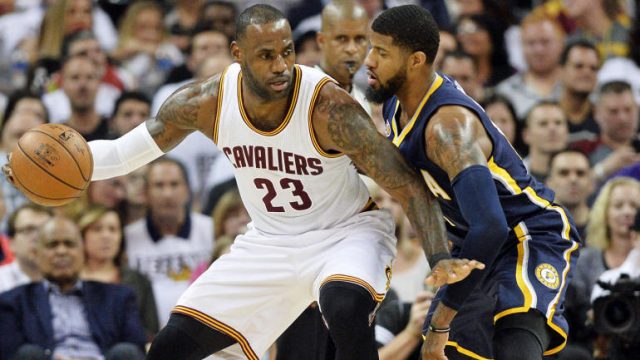 How Has Sharp Money Affected the Cavaliers-Pacers Line?
After two consecutive home wins, the Cleveland Cavaliers (53-31 SU, 36-46 ATS) will look to take a 3-0 series lead against the Indiana Pacers (42-40 SU, 41-43 ATS) tonight at Bankers Life Fieldhouse. In an interesting storyline, the Pacers have actually covered the spread in both of their playoff losses.
The screenshots below, which are available to Sportsbook Insider subscribers, displays the line movement and public betting information from our historical archive.
Game 1: April 15, 2017

Game 2: April 17, 2017

As you can see, public betting was evenly split in each of the first two games with the Pacers receiving 45% of spread tickets in Game 1 and 51% of spread tickets in Game 2. However, it appears that bettors don't believe that home-court advantage is particularly valuable, and they're backing the Cavaliers in Game 3.
After opening as 4-point road favorites at the market-setting Pinnacle sportsbook, the Cavaliers have received 66% of spread tickets but only 49% of spread dollars. Despite that public support, Cleveland has actually dropped from -4 to -2.5. Line movement that contradicts our public betting trends is known as reverse line movement, and it's an excellent indicator the sharp bettors are taking the Pacers in this matchup.
[click image below to enlarge]

The Pacers moved from +4 to +3.5 just 30 seconds after the line opened at Pinnacle, with sharp bettors jumping all over the home underdog. The Pacers then moved from +3.5 to +3 roughly two hours later and then moved from +3 to +2.5 less than 20 minutes after that. The line has remained unchanged over the last two days, but it's quite clear that sharp bettors were responsible for initial 1.5-point line move.
The Cavs are receiving nearly two-thirds of spread tickets, but the Pacers are receiving a slight majority of spread dollars. That indicates that large wagers (presumably placed by sharper bettors) have been taking the home underdog.
The screenshot below displays all bet signals triggered on this matchup. As you can see, there have been several profitable reverse line movement alerts and one steam move triggered on the Pacers.
[click image below to enlarge]

It's worth noting that historically home-court advantage is overvalued during the regular season, but it's actually undervalued during the playoffs. Since 2005, home teams have gone 7,394-7,646 ATS (49.2%) during the regular season and 520-484 ATS (51.8%) during the postseason. Home teams are particularly undervalued when they're being avoided by the majority of public bettors.
We constantly preach the importance of betting against the public, but that's particularly true during the playoffs when the volume wagered on every game increases dramatically. Over the past 12 seasons, road teams receiving more than 50% of spread tickets have gone 266-289 ATS (47.9%) and road teams receiving at least 60% of spread tickets have gone 118-151 ATS (43.9%) during the NBA playoffs.
In order to maximize long-time profits, it's crucial to have access to multiple sportsbooks and always shop for the best line. This game is a particularly good example since several square sportsbooks (including Bovada) are still offering Pacers +3 while the sharper offshore sportsbooks (like Bookmaker and Heritage) have already moved to Pacers +2.
This is the perfect example of "Sharps vs. Squares" with sharp bettors taking the Pacers and casual bettors taking the Cavs. Most bettors are likely unwilling to back the Pacers after two consecutive losses, but this looks like the optimal opportunity to buy low and back the contrarian home 'dog. That said, the only picks we fully endorse are our Best Bets, which are available exclusively to Sportsbook Insider Pro subscribers.
Sportsbook Insider Pro subscribers also have access to real-time odds, public betting trends, money percentages, bet signals (including steam moves and reverse line movement alerts), injury alerts, value meter, line watcher, line predictor, and many other unique features. Looking to try our service? Sign up now for a 4-day trial and start winning today!
Have any questions for the staff at Sports Insights? Make sure to utilize our live chat or call us directly at 877-838-2853.