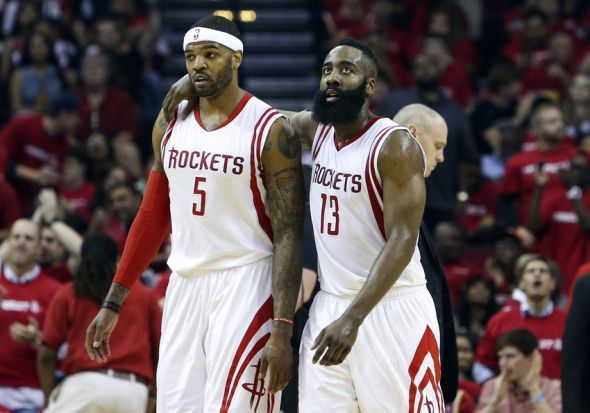 Game 7 Preview: Clippers vs. Rockets
Down 3 games to 1, few thought that Houston had any chance to progress to the Conference Finals. Only 8 teams have ever come back in NBA history when trailing a series 3-1 (out of 224 total, 3.6%) and it didn't look good for the Rockets. Houston was +1600 to come back and win the series and +10000 to win the NBA title, and in Game 6 they were even up to +1968 on the live moneyline in the 4th quarter.
Heading into a Game 7 at home against the Clippers, Houston is now at +105 to win series and +1500 to win the title. However, they're still getting little respect as a home underdog.
Since 1991 there have been 92 elimination games in the NBA Playoffs (Game 5's and Game 7's). The home team had been favored in every one of them until Sunday where the Clippers are road favorites at Rockets (via @bigal_com and @ToddFuhrman).
The early line movement for this game has been particularly interesting as Pinnacle opened the game as a pick 'em but quickly moved to Clippers -2.5. Soon after, the game was back to a pick 'em but since then has been steadily between Clippers -1.5 and Clippers -2.5. Below shows the line movement at Pinnacle: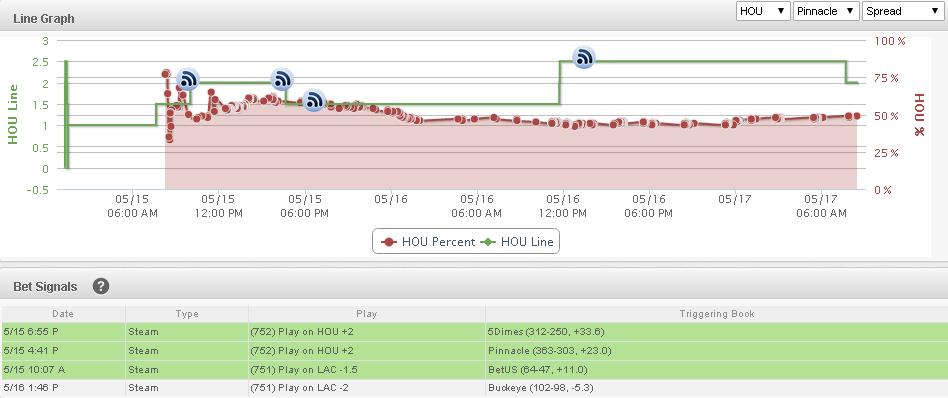 Since 2005 there have been 32 Game 7's in the NBA with home teams (19-13 ATS) and favorites (19-13 ATS) holding the upper edge. But as we previously mentioned, this will be the first such elimination game where the home team is NOT the favorite. A positive steam move was triggered on LAC -1.5 early on, but was followed with two positive steam moves on the other side at HOU +2.
Early moneyline betting was lopsided with nearly 2/3 of ML bets on the Rockets but this has evened out the past couple days to a near 50/50 split. Spread betting has also been relatively split which shouldn't come as a huge surprise. Game 7's historically are not lopsided in terms of bets on each side, which makes sense because both teams have had success in the series. Of the 32 Game 7's since 2005, only 1 team has received less than 30% of bets (Pistons won by 18 as 8.5-point favorites over Cavs in 2006).
And while it may not serve as a huge aspect of the game, it's interesting to note all 3 referees for today's games are road-friendly officials in terms of covering the spread:

The odds and betting percentages may be fluctuating until game time on Sunday so be sure to check our Free Live Odds page for the latest movement.