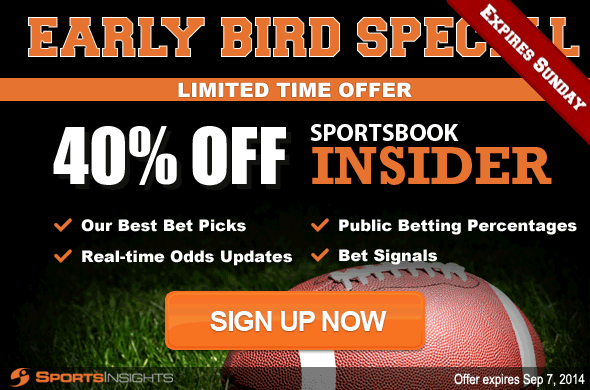 Early Bird Football Special – Save 40% off Pro Membership!
To help kick off the 2014-15 football seasons, we're excited to announce the return of the Early Bird Football Special and a discount of almost 40% off our Pro Membership!
Our Pro membership includes real-time odds from over 40 sportsbooks, public betting percentages, Bet Signals (Steam and Smart Money alerts) and access to our exclusive Best Bet picks.
2013-2014 Football Best Bet Picks Results:
| Sport | ATS Record | Units Won |
| --- | --- | --- |
| NFL | 85-75 (53.1%) | +3.39 units |
| NCAA Football | 119-92 (56.4%) | +16.87 units |
*$100 bettors following all of our Best Bet picks last football season enjoyed a profit of $1,571!
Throw in the fact that our Early Bird Football Special includes Best Bet picks for all sports, including picks for the rest of the 2014 MLB season (currently +34.71 units) and it's easy to see that the sooner you sign up, the more you save!
>> For a onetime payment of $699 (almost 40% off the monthly rate), you'll receive Pro Membership access (including Best Bets picks) for all sports through January 2, 2015.
Any existing time on your current membership will be added to the Early Bird Football Special's expiration date of January 2, 2015, ensuring you'll keep whatever time you've already paid for!
After expiration, you will continue to pay the normal rate of $249/month unless you cancel your account. You can cancel your account at any time and continue to have access through January 2, 2015.
This promotion expires September 7th, 2014.
If you have any questions regarding the Early Bird Football Special, please contact us at 877-838-2853 or help@sportsinsights.com.