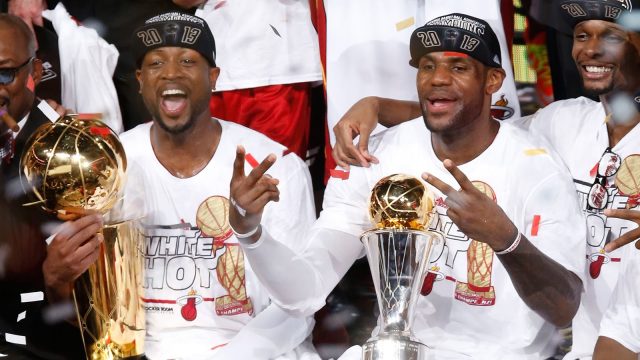 Dwyane Wade Doesn't Help the Cavs in the Eyes of Vegas
Yesterday, Dwyane Wade did as many expected him to do by reuniting with LeBron James and signing with the Cavaliers.
Sources: Dwyane Wade has reached agreement on a one-year, $2.3M deal with the Cleveland Cavaliers.

— Shams Charania (@ShamsCharania) September 26, 2017

King James may still be at the height of his game, but at 35-years-old, Wade is not close to the player he once was. Even so, he has chemistry with LeBron and has a great playoff resume. He must help their chances of knocking off the Warriors, right?
If we take a look at the futures at Westgate Superbook in Las Vegas, they haven't adjusted their futures for the Cavs at all.
| | Before D-Wade | After D-Wade |
| --- | --- | --- |
| Win Total | 54 | 54 |
| Division Odds | -1000 | -1000 |
| Conference Odds | -160 | -160 |
| NBA Title Odds | +400 | +400 |
It's possible that bettors will react on their own accord and move the odds a bit, but the signing has caused literally no immediate futures movement. And by literally, I mean the actual definition over at Miriam Webster's, not the opposite of the definition used by most people. Yesterday, we polled our Twitter followers and close to 50% felt that it would improve their title odds, about 1/3 felt there would be no change, and 20% felt it would hurt their chances.
POLL: What effect would the addition of Dwyane Wade have on the #Cavs title chances?

— Sports Insights (@SportsInsights) September 26, 2017

Last season with the Bulls, Wade played in just 60 games, played a career-low 29.9 minutes per game, shot a career-low 43.4%, and averaged a career-low 3.8 assists per game. There's a reason he only got a 1-year, $2.3 million dollar deal. He's obviously not going to be the key cog he was as part of the Heat "Big 3", but at least he's not on the Bulls anymore.
Follow us @SportsInsights for all of your gambling news and notes.