The 2017 NBA Draft Lottery, which is used to determine the draft order for teams who missed the playoffs, will take place tomorrow evening. The fortunes of several franchises will be permanently altered by the selection of a few ping pong balls, and sportsbooks have attempted to capitalize on this excitement with several prop betting opportunities. If you're a fan of money, these props should be avoided at all costs.
This is considered one of the deepest and most talented draft classes in years, and Washington's Markelle Fultz (-300) is the odds-on favorite to be selected with the first overall pick. I'd be willing to take Fultz at that price, but betting on each team's draft position is a fool's errand.
For anybody who's unfamiliar with the machinations of the draft lottery, every non-playoff team is given an allotment of ping pong balls based on their record during the past season. This determines the top three picks, while the remaining teams are assigned picks based on their record with the worst teams picking first.
The Brooklyn Nets (20-62) finished the regular season with the worst win-loss record, which gives them the highest probability (25%) of earning the first overall pick. However, the Boston Celtics actually own this pick as a result of a 2014 trade which netted Brooklyn Paul Pierce, Kevin Garnett, and Jason Terry.
The Phoenix Suns (24-58) finished with the second worst record while the Los Angels Lakers (26-56) finished with the league's third-worst record. Unfortunately for Lakers fans, there's a high probability they won't be keeping their draft pick. If the Lakers pick finishes outside the top three, they would need to convey their draft pick to the Philadelphia 76ers.
Interestingly, BetOnline has posted several prop bets including odds for whether the Lakers will retain their pick.
Will the #Lakers land a top 3 pick in the #NBADraft and avoid sending it to the #76ers? (via BetOnline)

Yes +100
No -120

— Sports Insights (@SportsInsights) May 15, 2017
In reality, there's a 46.9% chance the Lakers will keep their draft pick this year and a 53.1% chance they will be forced to trade it to the 76ers. However, when you convert those BetOnline odds into implied probabilities, you'll see that there's a 50% implied probability they keep the pick and a 54.55% probability they trade the pick. Both of the actual probabilities are less than the implied probabilities, which means this prop has a negative expected value.
The screenshot below, which is taken from Wikipedia, displays the lottery probabilities for all fourteen teams.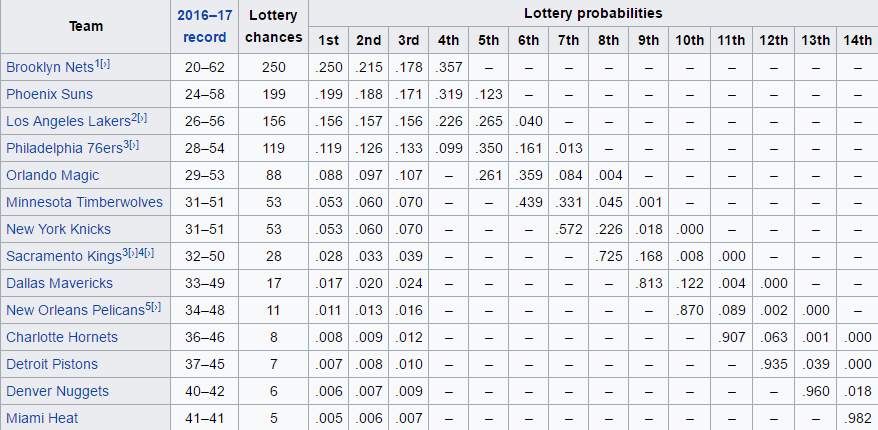 Based on those lottery probabilities, the Lakers should be +541 to land the first overall pick, +537 to land the second overall pick and +541 to land the third overall pick. As you can see from the screenshot below, BetOnline is offering shorter odds for all three draft slots.

There are definitely conspiracy theorists who believe the lottery will be rigged to help big market teams like Los Angeles, but these numbers indicate that any wager on the NBA Draft lottery would be unwise. Oddsmakers can easily find the actual probability of each outcome, and then apply the juice to ensure bettors are getting a bad price on both sides. Need more proof? The table below compares BetOnline's odds for each team to win the number one overall pick with the true odds based on probability.
| Team | BetOnline | Actual |
| --- | --- | --- |
| Boston Celtics (via Brooklyn Nets) | +285 | +300 |
| Phoenix Suns | +380 | +403 |
| Los Angeles Lakers | +500 | +541 |
| Philadelphia 76ers | +550 | +580 |
| Orlando Magic | +950 | +1036 |
| Minnesota Timberwolves | +1600 | +1787 |
| New York Knicks | +1600 | +1787 |
| Sacramento Kings | N/A | +3471 |
| Dallas Mavericks | +4500 | +5782 |
| New Orleans Pelicans | +5000 | +8991 |
| Charlotte Hornets | +6600 | +12400 |
| Detroit Pistons | +8000 | +14186 |
| Denver Nuggets | +10000 | +16567 |
| Miami Heat | +10000 | +19900 |
Bettors have an advantage over their sportsbook when the actual probability of an event occurring is higher than the implied probability. Clearly, there are no teams offering value at BetOnline, and that's true of all offshore sportsbooks. That's why all bettors (except perhaps the most ardent conspiracy theorists) should be laying off this bet.
It's also important to realize that the 76ers actually have the right to swap draft picks with the Kings, which means it's impossible for Sacramento to land the first overall pick. That's why Sacramento isn't listed as an option, and why Philadelphia's actual probability is 14.7% and not 11.9%.
Have any questions for the staff at Sports Insights? Utilize our live chat to speak with a customer service representative or e-mail us at help@sportsinsights.com.
The following two tabs change content below.
David Solar
David Solar is the Content Manager at Sports Insights. He specializes in sports betting analytics and creating data-driven betting systems. He can be reached directly at david@sportsinsights.com or on twitter at @TheDavidSolar.
Latest posts by David Solar (see all)