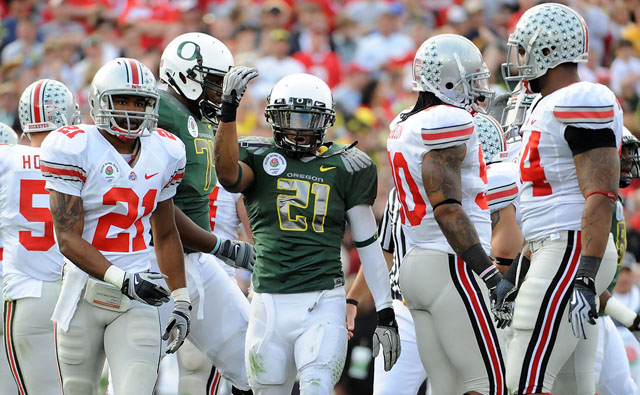 2015 College Football Playoff: Championship Game Betting Analysis
This post will remain "live" through kickoff of the College Football Playoff Championship Game on January 12th between the Ohio State Buckeyes and Oregon Ducks and will be constantly updated to reflect major line moves, public betting trends, sharp money indicators (action from professional bettors and/or syndicates), injury news and relevant betting analysis, so please check back often.
---
Offshores settling at +6, Vegas books at +6.5
– Post 1/12/15 at 12:15 pm ET
After the line dropped to the lowest of the week, a swing of bets over the weekend pushed the line back up to +6.5 at books like CRIS, Westgate, and 5Dimes. Most offshores have settled at +6 but many of the Vegas books are at +6.5. This game is shaping up to be the most heavily bet college football game EVER according to David Purdum, and we're currently tracking over 63,000 bets at our participating books. Below shows the Line History at Westgate LV since Friday night.

Following these moves, we're now forecasting the spread to drop back down to +5.5: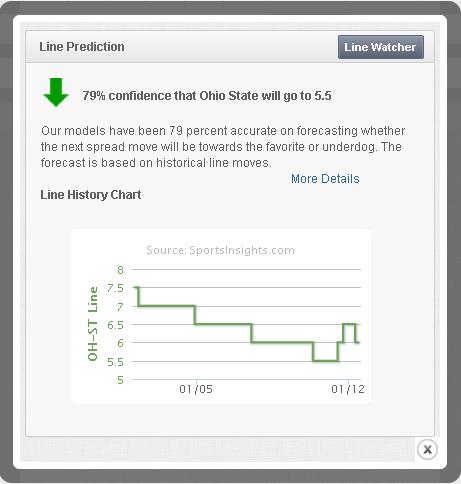 ---
CRIS down to +5, Carib to +4.5
– Posted 1/10/15 at 2:15 pm ET
On Friday night Oregon suspended starting WR Darren Carrington for the title game due to a failed drug test, sending the line down even more to +5.5 around the market. By Saturday morning, CRIS was down to +5 and Carib even moved Ohio State to +4.5. Below shows a screenshot of how the line has fluctuated during the week at CRIS:

---
Market Consensus now at 6
– Posted 1/9/15 at 9:10 am ET
We reported Wednesday morning that the line for the College Football Playoff Championship Game had dropped to 6 at a handful of offshore sportsbooks. Since that move, the majority of both Las Vegas and offshore sportsbooks have followed, now offering a consensus of 6 across the sports betting market.
For updated odds, real-time line moves and public betting percentages, be sure to visit our Free College Football Odds page.
---
Line Ticks Down to 6
– Posted 1/7/2015 at 9:30 am ET
After a quiet Tuesday, the spread has dropped from 6.5 to 6 at a handful of offshore sportsbooks as of Wednesday morning. While the majority of the market, including CRIS, Pinnacle and Westgate Las Vegas, are still at 6.5, 5Dimes, BetOnline and Carib Sports are now offering the game at 6.
Interestingly, 69% of spread bettors have laid the points with the Ducks, yet the reverse-line movement continues to indicate that early sharp money has showed up to take the Buckeyes at +7 and now at some +6.5's at well.
The screenshot below charts recent line movement for this game at 5Dimes.

---
Limit Bets on Ohio State
– Posted 1/5/15 at 4:10 pm ET
Monday morning (posted below), we reported that the first signs of sharp action hit the College Football Playoff Championship game on Sunday evening, pushing the line down from 7 to 6.5.
David Purdum offered more details regarding the line move from his Twitter account Monday afternoon:
Series of limit bets came in on the Buckeyes yesterday at multiple sports books, trimming the line from Oregon -7 to -6.5 in title game.

— David Payne Purdum (@DavidPurdum) January 5, 2015
Vegas book @CGTechnology_ reported taking 2 limit bets on Ohio St, per @jsimbal. CG Tech is not at full limits for game yet.

— David Payne Purdum (@DavidPurdum) January 5, 2015
---
Sharp Money Alert
– Posted 1/5/15 at 8:45 am ET
While the line flirted with 6.5 at a handful of books on Friday, sharp money hit this game for the first time Sunday, grabbing Ohio State at +7 and dropping the line to a consensus of 6.5 across the sports betting market.
This line movement triggered a Reverse-Line Movement (Smart Money) alert for Sportsbook Insider Pro members at 8:07 pm ET Sunday.
The chart below summarizes line movement for the College Football Playoff Championship Game at Pinnacle. Notice the "$" sign on the graph which indicates when Sunday's sharp money alert was triggered and the coinciding line move from 7 to 6.5.

---
Key Line Move
65% of early spread wagers are on Oregon, yet CRIS is the first major book to budge off of -7, dropping the Ducks to -6.5.

— SportsInsights.com (@SportsInsights) January 2, 2015
---
Line Prediction
– Posted 1/2/2015 at 11:55 am ET
Sixty-five percent of early spread bets are on Oregon, but our line prediction tool is expecting the next line move to drop the Ducks from -7 to -6.5.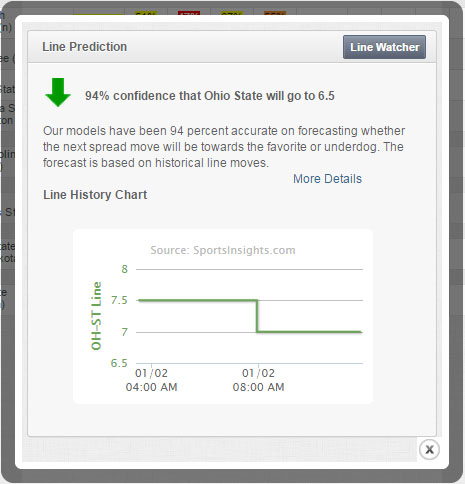 ---
Early Line Report 
– Posted 1/2/2015 at 9:28 am ET
Following a blowout victory over Florida State in the Rose Bowl, Oregon is a consensus 7-point favorite over Ohio State across the sports betting market. In very early betting, 57% of spread wagers are on the Ducks, however, only 3 of the 7 sportsbooks that contribute public betting percentages to Sports Insights are currently reporting.
The table below summarizes the current College Football Playoff Championship Game betting lines at Pinnacle:
| Team | Spread | Moneyline | Over/Under |
| --- | --- | --- | --- |
| Ohio State | +7 | +226 | 73.5o (-103) |
| Oregon | -7 | -260 | 73.5u (-109) |
Ohio State received more bets during the year to win the title than any other team at Westgate Las Vegas. Following QB Braxton Miller's injury, the Buckeyes were 50:1 to win the Championship but are now +230.
Please check our Free College Football odds page for real-time College Football Playoff Championship Game odds and updated public betting percentages.
Join us live Saturday mornings at 11am ET
We're now holding our members-only live Sports Betting Hangouts Saturday mornings to prepare you for a full day of College Football. Members, simply log into your account Saturday morning to access the hangout.
Not a member? Start a trial today to join our Sports Betting Hangouts held six days a week, plus all the other Sportsbook Insider Pro benefits.