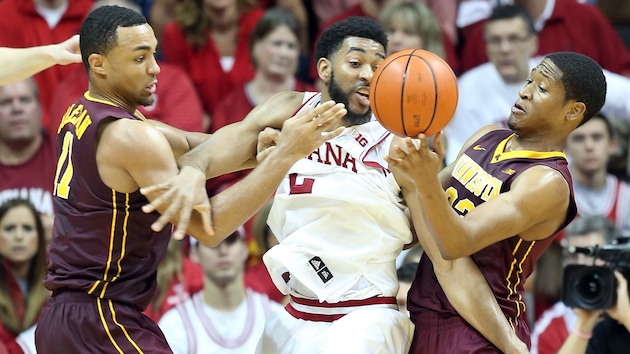 College Basketball Betting: Is There Really More Parity This Season?
Just this week we've seen Penn State grab their first conference win with a victory over #4 Michigan, top-ranked Indiana fall to an un-ranked Minnesota squad and #8 Florida lose to another un-ranked team in Tennessee. In fact, it seems like a weekly occurrence that a top-10 team loses on the road to supposedly mediocre competition. The nation's top ranked team has suffered a defeat in 6 of the past 7 weeks and, examining college basketball betting futures, there is no clear-cut title favorite.
This has been the topic of conversation amongst many media outlets and it got us thinking: Is there more parity in college basketball this season than in past years?
With a dearth of superstar players, our hypothesis was that home underdogs have performed better than they have in past seasons. To test this theory, we looked at all underdogs between 0 and 4.5 points — specifically in the big six conferences (ACC, Big East, Big Ten, Big 12, Pac-12, SEC) where the nation's top talent typically resides. We chose this spread range because we wanted to focus specifically on competitive games.
We found that in college basketball betting this season, dogs fitting these criteria have posted a 56-44 record (+8.7 units, 8.8% ROI) at home and a 72-57 record (+11.1 units, 8.5% ROI) on the road. That means that all underdogs of 4.5 or less have gone 128-101 (55.9%) ATS with a profit of 19.8 units and an 8.7% return on investment.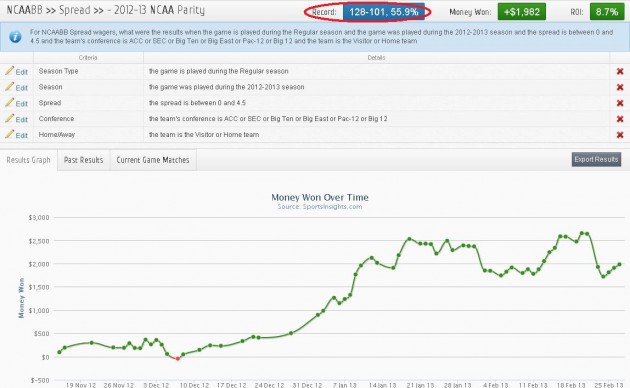 Of course this begs the question, how have these teams performed prior to this season? Using our BetLabs software, we determined that similar underdogs have gone 1,233-1,202 (-29.8 units, -1.2% ROI) from the 2004-05 season through the 2011-12 season. That works out to an average season of roughly 154-150 with -3.7 units.
Now that we have determined that underdogs have been performing at a higher level than in the past, we wondered if it would be wise to take these teams on the moneyline. After all, we've seen top teams knocked off by middle of the road teams throughout the season, so there must be value to betting on a straight up victory as opposed to taking the points. Turns out, betting dogs of 4.5 and less on the moneyline would have resulted in a 109-126 record with 17.44 units earned and a 7.4% ROI — both worse than simply taking the spread.
Could there be another upset in the making tonight? Third-ranked Duke (24-3, 11-3) will travel to Virginia (19-8, 9-5) to take on the unranked Cavaliers. Although one would expect the Blue Devils to be heavily favored, they are actually a 1-point underdog. Perhaps that explains why, according to our College Basketball betting trends, Duke is currently receiving 78% of spread bets.
Not only is there contrarian value on the Cavs, but Duke will likely be looking ahead to Saturday's showdown with #5 Miami. The Blue Devils will have revenge on their mind after losing by 27 points in their last showdown with Miami, and it is always dangerous to overlook a conference foe. We will continue to monitor this game as a potential college basketball betting system play — especially if public money moves Virginia to an underdog.
Do you think that small dogs will continue to win as conference tournaments roll around? Does Virginia have the chance to "upset" Duke tonight? Please leave your thoughts or questions in the section below.