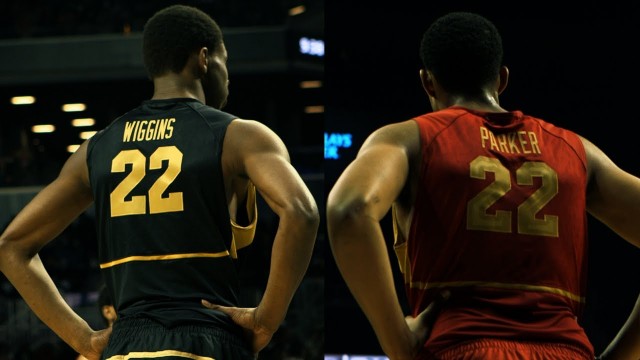 Can NBA Bettors Take Advantage of Tanking?
The 2014 NBA Draft is considered by many experts, including ESPN's Chad Ford, to be one of the deepest and most talent-laden in years. Players like Kansas' Andrew Wiggins, Kentucky's Julius Randle and Duke's Jabari Parker are all thought to be franchise building blocks and future All-Stars for years to come.
With big free agents consistently leaving their teams for greener pastures (re: larger markets), building through the draft seems to be the only option for many small market teams. Need an example? How about LeBron's exodus from Cleveland to Miami, Carmelo's move from Denver to New York or Dwight Howard forcing his way out of Orlando. Three small market teams lost their top players and three large market teams capitalized.
So which small market teams have had success? The go-to example seems to be the Oklahoma City Thunder who were able to acquire the foundation for their roster (Kevin Durant, Russell Westbrook, Serge Ibaka and even former teammate James Harden) through the draft — specifically by utilizing top five picks in three consecutive years. This success has led many to the philosophy that if your team is not ready to compete for a title, there is no value in being a borderline playoff team and building a roster of mid-first round draft picks.
When the Boston Celtics traded away star players Kevin Garnett and Paul Pierce to the Nets for a trio of draft picks, immediately fans believed this was the first step in tanking — i.e. building a team that is meant to lose in an attempt to acquire a high draft pick. General Managers will never admit to tanking with Celtics GM Danny Ainge even saying, "We are not tanking. That's ridiculous. This is the Boston Celtics."
Despite this denial, fans remain resolute that tanking is a league-wide trend and that a number of teams — including the Orlando Magic, Phoenix Suns, Philadelphia 76ers and Utah Jazz — are all currently engaged in the practice. However, while uninformed bettors may think that it's best to bet against these teams, our data indicates that betting on these tanking teams can be highly profitable.
We are known to buy on bad news and sell on good, so we decided to use our Bet Labs software to determine whether or not these bottom-feeding teams were historically profitable to bet on.
Our first step was to focus on the worst teams in the league, so we went to the "Team Win %" filter and looked at teams with a winning percentage of less than 35%. While this resulted in a winning record, it was not above the 52.4% win rate needed to cover -110 juice.
The next step was to focus on teams coming off a loss, as we know that these teams have been historically undervalued by the public. By taking the "Previous Game Margin" filter and setting it between -1 and -55, we are able to focus on all teams who lost their most recent game. While this improved winning percentage and return on investment for our system, it was still unable to cover the juice.
Lastly, we were aware that home court advantage has been massively overvalued by oddsmakers so we decided to filter out home teams and focus solely on visitors. Teams fitting this criteria have posted a 798-709 (53%) with +51.99 units won and a 3.5% return on investment.

While we had finally developed a winning system, we knew that adding in a contrarian betting filter would increase our returns even further. The table below shows how betting against the public improves the return on investment for our system:
| Betting Percentage | Record | Units Won | ROI |
| --- | --- | --- | --- |
| >45% | 463-407 (53.2%) | +33.69 | 3.9% |
| >35% | 215-172 (55.6%) | +33.37 | 8.6% |
| >30% | 98-77 (56%) | +16.22 | 9.3% |
As you can see, teams fitting this criteria have been the most profitable when they are receiving less than 35% of spread bets as they have produced a 215-172 ATS record (55.56%) with 33.37 units won and an 8.6% ROI. The return on investment is slightly higher at the 30% level, however with dramatically fewer past game matches the actual units earned is significantly less.
Andrew Wiggins, Jabari Parker and Julius Randle will all be playing tomorrow night in the Champions Classic and you can be darn sure that all 30 NBA teams will be sending multiple scouts to the event. It will be an opportunity for all of America to see the grand prize for the tanking teams around the NBA.
Want to create your own winning betting system? Try our 6-day Bet Labs trial for just $25 and bet on yourself.