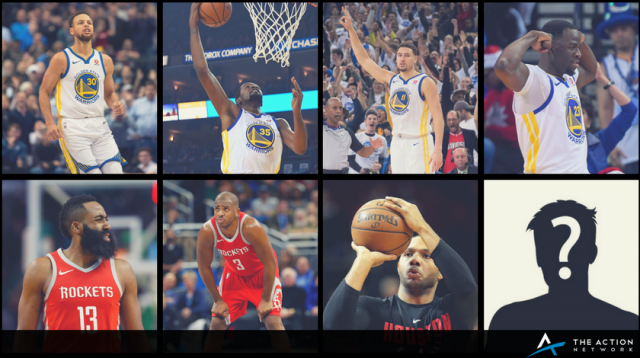 Are Bettors Foolishly Ignoring Houston's Mystery Star Tonight Against Golden State?
What was set to be a clash of stars was unfortunately ruined because James Harden decided to pull a hammy. Selfish.
However…in my mind, the game is set to be more exciting than ever. There are still plenty of superstars playing and Harden's injury has opened the door for an unsung hero and future Hall of Fame candidate in my book.
Let's play a little game of blind resumes…don't click on the links until the end you cheaters.
Still confused? Here are some more hints.
You have to know who they are by now. No?!? Alright, fine. One last hint.
Player 1: Has 10 fingers
Player 2: Has 10 fingers
Player 3: Has 9.5 fingers but still manages to play against the ten-fingered folk in the NBA
Player 4: Has 10 fingers
(Answer key: 1. Steph Curry, 2. Kevin Durant, 3. Gerald Green, 4. James Harden)
Gerald Green-Light, as he's being dubbed in Houston, was signed just one week ago, but looks like he's been a part of Houston's three-chucking offense for years. Over his past three games, Green has put up 55 points on 13 of 20 from 3-point land. That includes this clutch three after Harden was hurt against the Lakers that sent the game to overtime.

He smashed last night for the Rockets in their first full game without The Beard, putting up 27 points on 7-10 from deep against the Magic. He also casually put up 10x value on Draftkings with 41 points. I tried to warn our NBA Slack channel, but nobody took me seriously.
The Houston native has been resilient throughout his career and is now getting a well-deserved second chance with the team he grew up rooting for.
Tonight, he's still a measly 4k on DK so get him while the getting's good. He'll almost surely be over 10k by week's end.
As far as the gambling goes for tonight's game vs. the Champs, bettors were all over the Warriors in the early going, clearly focusing on Harden's absence and ignoring Green's dominance. (Screenshot at 11 AM eastern)

Even since Kevin Durant was ruled out, bettors haven't been swayed too much. Seventy-eight percent of bets and 88% of dollars remain on Golden State, who dropped to -4 following the injury news. This will be Houston's first game as a home dog this season and first time in the regular season since January 20th of last year, which was also against the Warriors. They closed at +5.5 in that affair, but ended up losing by 17.
For the latest lines and percentages, check our free NBA odds page. Follow @ActionNetworkHQ for more news throughout the day for tonight's big game.