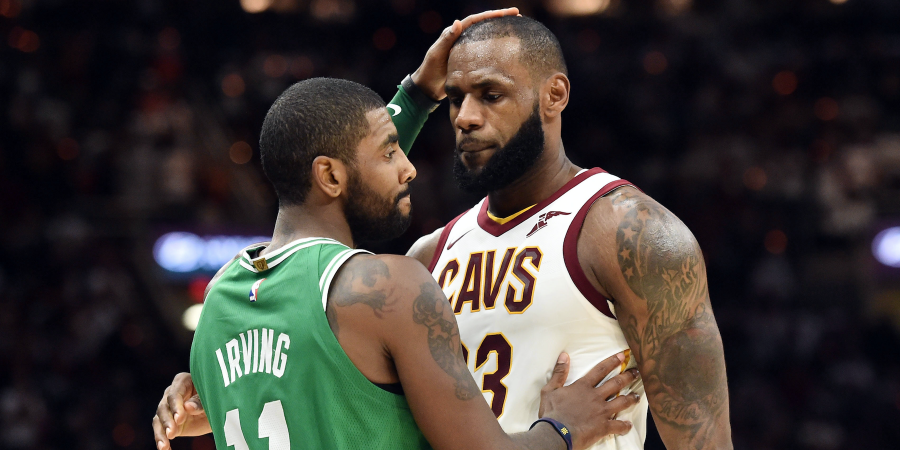 Betting, DFS Angles for Wednesday's NBA Card: Cavs-Celtics, Thunder-Lakers, more
Wednesday's stacked NBA card features LeBron vs. Kyrie, Pt. 2, which means we'll be closely monitoring all the pregame and postgame head daps.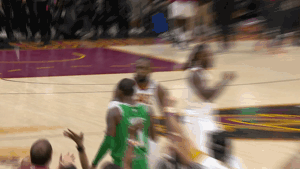 You see LeBron sneak an extra one there at the end? Veteran move.
Below, our crew of NBA analysts breaks down the five most intriguing matchups of the night with the vigor and savvy you'd expect from some wily veterans. Enjoy.
If there's a specific matchup you want to jump to, click the quick links below. All info is as of Wednesday afternoon. For live spreads and bet percentages, check out this page. Follow the latest injury info on our industry-leading news feed. To get access to our premium betting tools, subscribe here.
CLE-BOS | HOU-ORL | SAS-PHI | PHX-DEN | OKC-LAL
---
CLEVELAND CAVALIERS AT BOSTON CELTICS (-3)  |  O/U: 213.5
8 p.m. ET | ESPN
The No. 1 thing I'm watching for: With Isaiah Thomas sitting out Wednesday, the drama factor in this game is diminished a little bit. Instead, I'm most interested in how Al Horford does against a Cavs frontcourt that has destroyed him through the years. (Horford has averaged just 13 points and four rebounds in 13 games since LeBron returned to Cleveland.) The Celtics' rebounding fell off a cliff after the end of their 16-game win streak, but it bounced back once they got a little bit of rest after a hectic schedule. If Tristan Thompson and Kevin Love win this matchup, take that as a sign the Celtics will face the same problems if these two teams meet in May.
The second-biggest thing? If this game comes down to the wire, it will feature two of the best players in the clutch this season with LeBron James (55 percent from the field in clutch, +2.3 per clutch time segment) vs. Kyrie Irving (52.9 percent, +1.5 per clutch time segment) facing off. — Matt Moore
What the metrics say: The Cavs and Celtics seem like polar opposites, but they do have one important thing in common: They like to take 3-pointers. They're both in the top-six in 3-point frequency and top-10 in 3-point percentage. The Celtics are much better at defending the 3-point line, ranking third in the league in 3-point percentage allowed, whereas the Cavs are 27th in that regard. This game could come down to the clutch with a LeBron vs. Kyrie duel, but it could also be quite volatile, given the number of 3-pointers likely to be taken. That makes the over/under interesting as well. — Bryan Mears
Betting market: More than two-thirds of spread bets are coming in on the Cavs (see chart below), despite Cleveland covering just two of its past 10 games. But the bigger money is on the Celtics, who still hold the league's best ATS record this year at 24-14-2 despite a 6-10-1 December clip. As a result of this money, as well as a steam move from 5Dimes, the Celtics have moved from -2.5 to -3 at Bookmaker since opening. — Mark Gallant
Trends to know: Against the league's best teams (opponents that have won 60% or more of their games), Brad Stevens and the Celtics are 60-45-2 (57.1%) ATS in the regular season. And since LeBron returned to Cleveland, the Cavs are 14-24-1 ATS on the second night of a back-to-back on the road. — John Ewing
DFS impact: Much of the attention on this game will be focused on LeBron vs Kyrie, which means that Kevin Love could fly a bit under the radar. Love destroyed the Celtics last season, averaging 46.6 fantasy points against them in three regular season meetings and 51.9 fantasy points against them in the playoffs. Matt detailed the Celtics' rebounding woes above, and Love should serve as the Cavs No. 2 option on offense with Thomas sitting out today's game. He has some appeal as a contrarian option for large tournaments. — Matt LaMarca
Injury watch: Thomas will sit out against his former team in the second leg of a back-to-back as he works his way back from a hip injury. The Cavs had an absurd +40.1 Net Rating with him on the court in Tuesday's win, as he was particularly effective working the two-man game with Dwyane Wade. Perhaps the greatest benefit of having Thomas back is that it'll lessen LeBron James' immense workload (37.3 mpg, 31.2% usage). But it's for that very reason that his absence will matter on Wednesday in DFS, as it'll bolster LeBron's floor. LeBron saw his usage rate drop by 3.6 percent when he shared the court with Thomas on Tuesday. On the Celtics' side, Semi Ojeleye will be a game-time decision with a back contusion. — Justin Phan
---
HOUSTON ROCKETS (-8) AT ORLANDO MAGIC  |  O/U: 219.5
7 p.m. ET
Injury watch: The Rockets have had their depth stretched to this point with injuries to Chris Paul, Clint Capela, and Luc Mbah a Moute, but now face their biggest test with James Harden sidelined for at least two weeks due to a hamstring injury. Paul and Eric Gordon will be tasked with initiating the majority of the offense without Harden, and both have seen sizable increases in their usage rates with Harden off the court (Paul +11.7%, Gordon +10.7%). Paul's assist percentage has nearly doubled as well, and he's averaged an absurd 27-14-6 per 36 minutes in that sample — good for 1.71 DraftKings points per minute. Don't sleep on Gerald Green either. As a career 36.2 percent shooter from beyond the arc, he'll see plenty of open looks alongside Paul in coach Mike D'Antoni's pace-and-space offense. — Justin Phan
The No. 1 thing I'm watching for: We saw Houston rip through the West without Paul earlier this year, and now we get to see what they look like without Harden, who has been their MVP engine. Gordon is the guy I most want to see here. He killed it as a starter earlier this season when Paul was out. Overall, his numbers have been great on a team level (Houston is a plus-14 per 100 possessions with him on court vs. off), but he's shooting only 34 percent for the season from deep. He should tear Evan Fournier (Never Google) & Co. apart in this game. — Matt Moore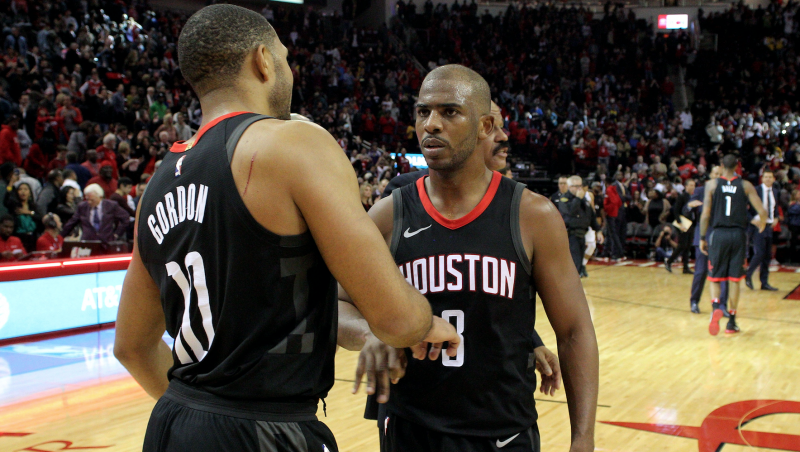 What the metrics say: Part of what makes Houston's offense so elite is their profile: They're first in 3-point rate and ninth in percentage of shots at the rim. That amount of "free offense" is incredible and it's one of the biggest reasons why they could miss James Harden: He ranks in the 97th percentile in the percentage of shot attempts he has drawn a foul on (per Cleaning the Glass). Matt mentioned above that he was curious how Gordon could fill in the gaps. The data suggests he has a chance to be useful in this regard: Gordon ranks in the 88th percentile in the percentage of shot attempts he has been fouled on this season. No one will be as efficient as Harden, but if Gordon can help Houston keep its offensive identity, that should be considered a huge victory. — Bryan Mears
Did you know? Houston is 9-6 straight-up and against the spread without James Harden since he joined the team in 2012. This will be just the third game Harden has missed in the past three-and-a-half seasons. — Evan Abrams
Trend to know: The Rockets have lost six straight games ATS, failing to cover the spread by 12.7 PPG in that span. Teams on an ATS losing streak of six games or more are 72-83-3 ATS (46.5%) when listed as the favorite since 2004. — Evan Abrams
---
SAN ANTONIO SPURS AT PHILADELPHIA 76ERS (-2)  |  O/U: 206.5
7 p.m. ET
The No. 1 thing I'm watching for: Joel Embiid is doubtful for this one, which is a shame, as San Antonio's plodding style would do well to help prevent The Process' late-game exhaustion. Without Embiid, the Sixers don't have tall defenders to put on LaMarcus Aldridge. Amir Johnson is strong as an ox, and sometimes that's enough to get Aldridge to settle. But with the kind of unobstructed view Aldridge will have, it'll be interesting to see if the Sixers decide to commit doubles and dare San Antonio's pedestrian 3-point attack (23rd in 3-pointers per 100 possessions) to beat them. — Matt Moore
What the metrics say: For teams known for Trusting The Process and having already figured out The Process, neither squad has played particularly intelligently this season. Both rank in the bottom half of the league in percentage of attempts at the rim, and they're both average-to-bad in percentage of shots from the 3-point line. The Spurs have been particularly archaic in their offensive approach, ranking a respective 28th and 26th in those categories this season. It will be interesting to monitor whether an offense now run through Kawhi Leonard instead of LaMarcus Aldridge will fix that. — Bryan Mears
Injury watch: This will be the seventh game Embiid has missed in his past 13. Amir Johnson and Richaun Holmes will handle most of the center minutes in his stead, with Holmes the player of interest as he's averaged 25 DraftKings points in the past six games Embiid missed. Dario Saric has been the biggest beneficiary, though, exceeding his salary-based expectation by an average of +12.4 DK points in that sample. The Spurs will likely find themselves short-handed in the second leg of a back-to-back. Danny Green (groin) could get some rest for a few games, Tony Parker has yet to play in a back-to-back, Leonard appears unlikely to suit up, and Pau Gasol and Manu Ginobili could be looking at limited minutes, assuming they play at all. — Justin Phan
Betting market: Early in the day, the Spurs were receiving more than 75% of spread bets against the Embiid-less 76ers squad. Even though we had a hunch Leonard (and others), it wasn't until after the news became official that the betting percentages began to even out (see chart below). The Spurs now sit at +2 after bouncing between +1 and -1 this morning. — Mark Gallant
Trend to know: The Spurs are 2-6 ATS on the second leg of back-to-back games this season, losing five straight ATS (-4.9 spread differential per game). San Antonio is tied with the Lakers for the least profitable team in the NBA this season on back-to-backs, losing $100 bettors a total of $408 in this spot. — Evan Abrams
DFS impact: Given all of San Antonio's injuries, Dejounte Murray could be in a prime spot for fantasy purposes. He's seen a usage increase of 6.2 percent with Leonard, Parker, Green, and Ginobili off the floor this season and has converted that usage into 43.09 fantasy points per 36 minutes. While his $4,700 price tag on DraftKings is fair, he's a steal at just $3,500 on FanDuel. — Matt LaMarca
---
PHOENIX SUNS AT DENVER NUGGETS (-11.5)  |  O/U: 218
9 p.m. ET
The No. 1 thing I'm watching for: Can Denver survive an extended rotation? Coach Michael Malone said Tuesday his New Year's Resolution is to get his starters more rest. But one of their consistent issues has been poor play when their rotation goes long. Their bench units, particularly anything Emmanuel Mudiay touches, typically melts into sewage. Every rotation player has a positive net rating with Mudiay on the bench; they all have a negative net rating while sharing the court with him. While there's value in getting a roster that's been short-handed most of the year some rest, Denver is always one losing streak away from being on the outside of the playoff race. Some of Malone's gambles have paid off this year, but this may be the riskiest yet. —Matt Moore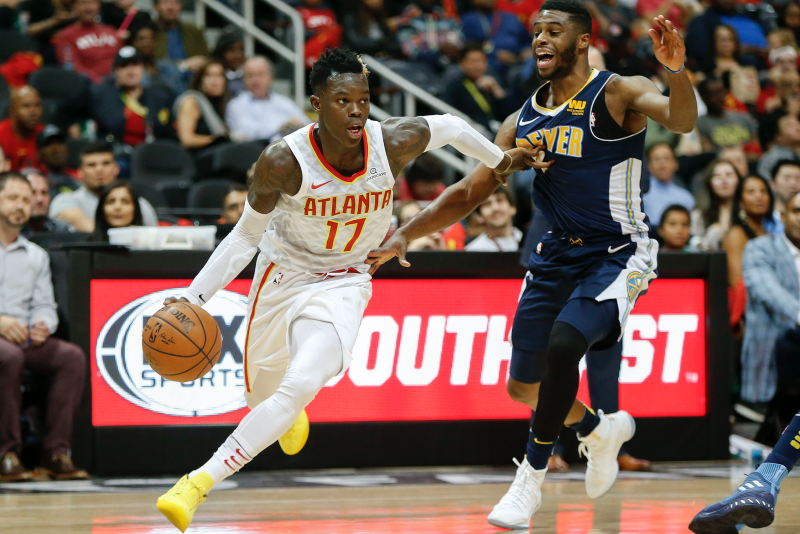 What the metrics say: The two things the Suns have done well offensively this season — hit the offensive glass and get to the line — are two of Denver's biggest defensive strengths. The Nuggets rank sixth in defensive rebound rate and fourth in limiting fouls. This game has a high total of 218 and it could be an up-and-down, high-scoring affair (at least for the Nuggets): Denver has been the fifth-best team in transition this season and the Suns have allowed the fourth-highest 3-point rate in the league. It's unclear how Phoenix will score to keep up, especially if Denver's newfound defensive success is legit: They've been a top-10 unit over the past 10 games, allowing just 103.1 points per 100 possessions. — Bryan Mears
Injury watch: Tyson Chandler has sat out the second leg of the Suns' past four back-to-backs and is expected to do the same on Wednesday. Greg Monroe started all four of those games in his place, though coach Jay Triano wouldn't commit to Monroe starting given he has appeared in just one of the Suns' past eight contests. Monroe has put up at least 32 DraftKings points in each of his past five starts, though Alex Len appears to be the safer option with Monroe's uncertain role in the rotation. Both are more favorably priced on DK where they have a Bargain Rating of 93 percent. — Justin Phan
DFS impact: The Suns are currently tied for 28th in defensive efficiency, allowing 108.7 points per 100 possessions. That number drops to a ridiculous 121.3 when Chandler is off the court. The Nuggets could have a field day on offense if he sits, as expected. In particular, Nikola Jokic stands out as intriguing. He's played at least 36 minutes in five of his past six games and has averaged 1.32 fantasy points per minute this season. — Matt LaMarca
Trend to know: Big favorites (10 or more points) in high-total games (210 or more points) have gone 304-358-11 (45.9%) ATS since 2004. If it looks too easy, it often is. — John Ewing
---
OKLAHOMA CITY THUNDER (-6) AT LOS ANGELES LAKERS  |  O/U: 213.5
10:30 p.m. ET | ESPN
The No. 1 thing I'm watching for: Lonzo Ball is day to day with his injury, and his presence could be fascinating in this game. The data says the Lakers are worse with him on the court, even after their apocalyptic losing streak with him out, and the Thunder matchup isn't great for him. OKC is a top-five defensive team, particularly in the half-court where Ball's offense is most impactful. Regardless of what the numbers say, it did feel like the Lakers played better with him. Incidentally, L.A. went 1-5 ATS with Ball out. If he can't go, this could once again get ugly for a frustrated Lakers team that has lost 10 of its past 11. — Matt Moore
Injury watch: Andre Roberson will miss at least three more games as he continues to deal with patellar tendinitis. His absence had little to no impact for DFS purposes in Sunday's loss with his minutes evenly distributed among Josh Huestis, Alex Abrines, Terrance Ferguson, and Raymond Felton. The Lakers could welcome back two starters Wednesday with Ball and Brook Lopez cleared to practice and considered day-to-day. Given the team won't practice again until Thursday, a return on Friday is a more likely target for both. Tyler Ennis and Julius Randle would continue to start and make for intriguing GPP options should Ball and Lopez remain out. Kyle Kuzma is considered questionable as he deals with a nagging quad injury. — Justin Phan
What the metrics say: The storylines will likely revolve around Russell Westbrook, Ball, and a variety of other former or future All Stars. But one guy who could have an outsized impact on the game is Steven Adams, who leads the NBA this season with a 17.1 percent offensive rebounding rate. The Lakers are 21st in defensive rebound rate and they're 29th in percentage of opponent shots allowed at the rim. Westbrook could feast in that regard and Adams could get a ton of extra opportunities. On the Lakers' side, they do have merits: They're first in the league in getting to the rim this season. Unfortunately, they're facing the third-best defense in points/100 allowed. — Bryan Mears
DFS impact: Russell Westbrook is the most expensive player on both sites for today's contests, but he still might be one of the best values of the day. He's reverted to his style of play from last season, averaging a usage rate of 37.5 percent over his past 10 games. If he's going to continue to play that way, he's almost undoubtedly underpriced at $11,700 on DraftKings. He averaged 10.67 fantasy points above expectation last season when comparably priced. — Matt LaMarca
Did you know? Home underdogs against the Thunder this season are 10-4 straight up on the moneyline, turning a profit of $1,374 for a $100 bettor. — Evan Abrams
Photos via USA TODAY Sports