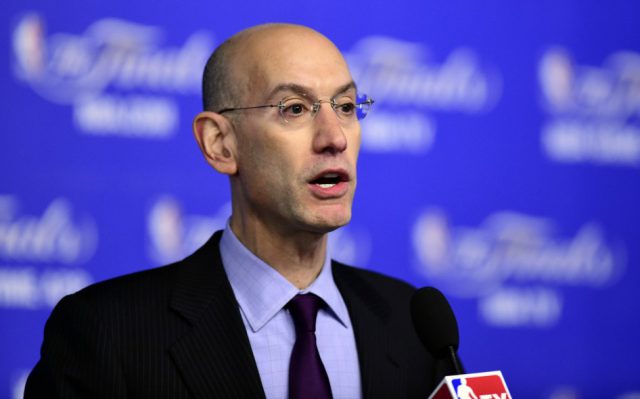 Adam Silver's Strong Stance on Sports Betting
NBA commissioner Adam Silver has been one of the most vocal proponents of sports betting and has been extolling the value of legalization. In November, he penned an op-ed for the New York Times in which he came to the same conclusion that most bettors have — sports betting is widespread, and with limited legal options people will gravitate towards offshore sportsbooks and illegal bookies. Instead of ignoring the popularity of sports betting, Silver has embraced it.
"There is no solid data on the volume of illegal sports betting activity in the United States, but some estimate that nearly $400 billion is illegally wagered on sports each year," Silver wrote in his New York Times piece. "There is an obvious appetite among sports fans for a safe and legal way to wager on professional sporting events."
Billions of dollars are wagered in Las Vegas every year, but there are untold amounts of money being lost to offshore sportsbooks and local bookies. That's potentially taxable revenue that the government is choosing to ignore due to a false perception that legalized sports betting will taint the outcome of the games. That couldn't be farther from the truth. Legalization would bring transparency and, according to Silver, the league would have "mandatory monitoring and reporting of unusual betting-line movements."
In a recent interview with ESPN, Silver reiterated that sports betting will happen regardless of the league's stance, and he believes that it's important to monitor the gambling to ensure the integrity of the game. "Just like the stock market with insider trading, if you don't have an open exchange you can't know what insider trading it going on. And to me when there's an enormous amount of betting underground, we have no idea what's going on, there's no transparency to the league, we have no extent of what's happening."
Silver has been dramatically different than his predecessor, David Stern, but even the former commissioner has voiced his support for legalized sports betting in the United States. At a forum on the future of sports media back in October, Stern said, "I think that gives a way for states to make more money, for leagues to be compensated for their intellectual property, and for the federal government to take [away] illegally bet money and put it through the federal coffers."
Mainstream media outlets like ESPN and Fox Sports understand the popularity of sports betting and routinely reference lines, futures and even some of the more entertaining prop bets. They realize that sports betting is good for business. The same can be said for several politicians including Chris Christie and John McCain.
The 1992 Professional and Amateur Sports Protection Act (PASPA) effectively banned sports betting outside Nevada, Oregon, Delaware, and Montana, but the time has come for change. Voters in New Jersey have voiced their support for legalized sports betting, but that doesn't go far enough. The government needs to overturn this federal ban and allow bettors to place wagers on professional sports.
There is legal sports betting in many countries including England and Australia, and it hasn't led to accusations of match-fixing. However, rogue official Tim Donaghy reportedly received $30,000 to pass inside information to bookies. Instead of blaming sports betting for these events, perhaps we should examine the underground nature of the institution.
NFL commissioner Roger Goodell has publicly stated that he disagrees with Silver, claiming that sports betting threatens the integrity of the game. What he doesn't seem to recognize is that the betting is happening anyways, regardless of whether it's legal. His anti-betting stance is even more ironic given the league's affiliation with daily fantasy sports.
Eventually, these professional leagues will realize that they're losing too much revenue to offshore sportsbooks and local bookies. They will come to their senses and recognize that a regulated sports betting marketplace is preferable to the current unregulated quagmire. In the meantime, we still have Adam Silver. The modern crusader for sports betting.
Click here to view Silver's full SportsCenter interview.