The 2016-17 NBA Playoff teams have been set, and 5Dimes was the first offshore sportsbook to post series odds for the 1st round. We will continue to update this table throughout the playoffs.
Matchup
Before Game 5
(5Dimes)
Before Game 4
(5Dimes)
Before Game 3
(5Dimes)
Before Game 2
(5Dimes)
April 14
(5Dimes)
April 13 Opener
(5Dimes)
BOS-CHI
BOS -500
CHI +400
(Tied 2-2)
BOS -155
CHI +135
(CHI up 2-1)
BOS +158
CHI -180
(CHI up 2-0)
BOS -160
CHI +140
(CHI up 1-0)
BOS -470
CHI +375
BOS -900
CHI +500
CLE-IND
CLE won 4-0
CLE -16300
IND +6450
(CLE up 3-0)
CLE -5000
IND +2500
(CLE up 2-0)
CLE -1500
IND +1000
(CLE up 1-0)
CLE -1050
IND +675
CLE -1350
IND +650
TOR-MIL
TOR -230
MIL +190
(Tied 2-2)
TOR +130
MIL -150
(MIL up 2-1)
TOR -210
MIL +175
(Tied 1-1)
TOR -160
MIL +140
(MIL up 1-0)
TOR -400
MIL +325
TOR -410
MIL +290
WAS-ATL
WAS -330
ATL +270
(WAS up 2-1)
WAS -800
ATL +550
(WAS up 2-0)
WAS -345
ATL +285
(WAS up 1-0)
WAS -225
ATL +185
WAS -210
ATL +160
GS-POR
N/A
(GS up 3-0)
GS -45000
POR +15000
(GS up 2-0)
GS -30000
POR +10000
(GS up 1-0)
GS -7000
POR +3000
GS -6000
POR +2000
SA-MEM
SA -700
MEM +500
(Tied 2-2)
SA -2750
MEM +1450
(SA up 2-1)
SA -8500
MEM +3500
(SA up 2-0)
SA -3200
MEM +1600
(SA up 1-0)
SA -1050
MEM +675
SA -1500
MEM +700
HOU-OKC
HOU -3000
OKC +1500
(HOU up 3-1)
HOU -500
OKC +400
(HOU up 2-1)
HOU -1100
OKC +700
(HOU up 2-0)
HOU -750
OKC +525
(HOU up 1-0)
HOU -360
OKC +300
HOU -350
OKC +250
LAC-UTA
LAC -115
UTA -105
(Tied 2-2)
LAC -350
UTA +290
(LAC up 2-1)
LAC -245
UTA +205
(Tied 1-1)
LAC -145
UTA +125
(UTA up 1-0)
LAC -210
UTA +175
LAC -210
UTA +160
Celtics won Game 4 in Chicago to even the series 2-2. It's the first time since 2005 (DAL-HOU) that the road team has won the first 4 games of a series.
Jazz got Rudy Gobert back for Game 4 and handled the Clippers at home to even their series 2-2.
Rockets got a huge road win at OKC in Game 4 to take a commanding 3-1 series lead. OKC is now +1500 to advance.
Below was written on April 23, 2017:
Grizzlies got another big win at home to even the series 2-2. Memphis has moved from +3500 to +500 to advance.
Warriors came back to win at Portland in Game 3, and series odds are currently off the board.
Raptors evened the series again and are back to favorites.
Hawks won big in Game 3 but remain substantial underdogs to advance past Washington.
Below was written on April 22, 2017:
Big news in the Boston/Chicago series as Rajon Rondo (thumb) is out indefinitely for the Bulls. Chicago dropped from -275 to -180 following the news, while the Celtics moved from +235 to +158. Boston won Game 3 in Chicago and are now back in control at -155 odds.
Clippers originally were -650 after Game 3, but Blake Griffin out for the season moved those odds to -350. The Jazz's odds improved from +475 to +290 without Griffin.
The Rockets came back to win Game 2 to take a 2-0 series lead but OKC took Game 3 at home. Houston still big series favorites though.
The Wizards also took care of business at home to take a 2-0 series lead. Washington is now -800 to advance. The Hawks were the only underdog to get <50% of series tickets at BetDSI before the playoffs began.
Golden State got another blowout win over Portland and are un-bettable at this point. Blazers are 150:1 to come back and win the series, and are +6 for Game 3 in Portland.
The Cavs overcame the biggest halftime deficit in playoff history (25 points) in Game 3 to go up 3-0. Indy now massive +6450 longshots to advance.
Below was written on April 19, 2017:
The top-seeded Boston Celtics have dropped their first two games in their first-round series, and the Chicago Bulls are now listed at -275 to advance.
Leading 2-0, the Cleveland Cavaliers odds of advancing have improved from -1050 to -5000.
After losing Game 1, the Clippers odds of advancing dropped from -210 to -145. Following this victory in Game 2, the Clippers odds of advancing have improved from -145 to -245.
The Raptors moved from -400 to -160 after their shocking Game 1 loss to the Bucks. Following their Game 2 victory, their odds improved from -160 to -210.
With consecutive victories, the Spurs odds of winning their first round series have improved from -1050 to -8500.
Below was written April 14, 2017 prior to Game 1:
The vig/juice was a little steep when odds opened, but those have started to tighten up since Thursday morning. Unlike this year's NHL Playoffs, every higher seed is considerably favored. The Warriors opened as the highest at -6000 and are now at -7000 while the closest matchups are expected to be LAC/UTA and WAS/ATL.
At BetDSI, the majority of the public is on the underdog in 6 of the 7 available series prices (they don't even list POR/GS there). The Atlanta Hawks are the only underdog getting <50% of series tickets. In addition to public wagers, there's clearly some sharp money on the Bulls against the Celtics to bring down the series odds.
5Dimes also listed the most likely NBA Finals matchup to be Cavs/Warriors at -118 odds. This matchup was also the favorite before the season at +125 odds, so very little has changed after the 82 game regular season. Here's a look at the most likely NBA Finals matchups at 5Dimes: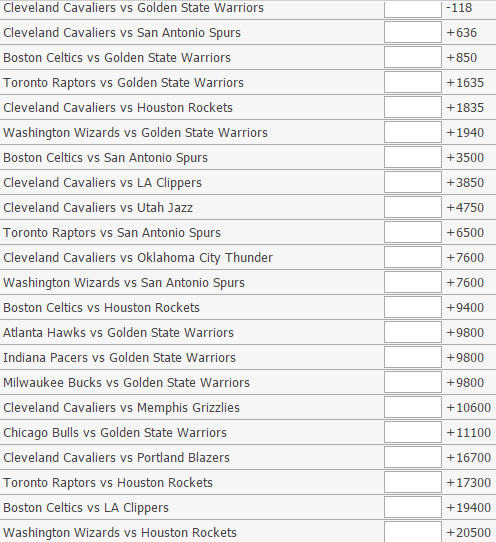 Follow all the latest game odds, betting percentages, breaking news and more at our Free Live Odds page.
You can also get a Pro membership trial and get access to all best bets, bet signals, money percentages and more.
The following two tabs change content below.
Dan McGuire
Dan McGuire is the Operations Manager and soccer specialist at Sports Insights. He can be reached at dan.mcguire@sportsinsights.com.
Latest posts by Dan McGuire (see all)