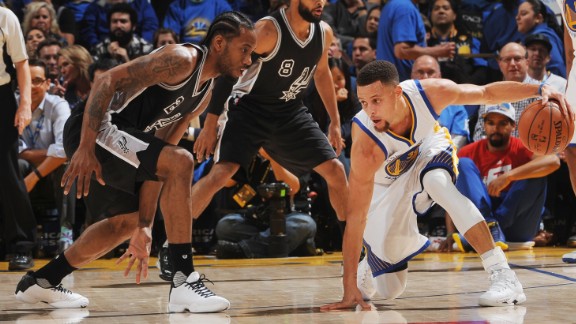 2017 NBA Playoffs Conference Finals Series Odds
The Spurs crushed the Rockets in Houston 114-75 in Game 6 to advance to the Western Conference Finals, where they're facing the Warriors. San Antonio's 47-point cover is the 3rd-largest ATS margin that we've ever tracked in the playoffs dating back to 2005. The previous two teams both covered their next game (Bulls 2015, Nuggets 2009).
In the East, the Cavs waited over a week for the Celtics but Boston will remain at home after a Game 7 win over the Wizards. Below shows the lookahead prices, opening prices, and prices throughout each series from 5Dimes:
Matchup
Before Game 4
Before Game 3
Before Game 2
Before Game 1
Opener
May 8
Lookahead Line
GS vs. SA
GS -45000
SA +15000
(GS up 3-0)
GS -6000
SA +2750
(GS up 2-0)
GS -1900
SA +1200
(GS up 1-0)
GS -1050
SA +675
GS -1100
SA +700
GS -925
SA +509
BOS vs. CLE
CLE -8500
BOS +3500
(CLE up 2-1)
CLE -17500
BOS +7000
(CLE up 2-0)
CLE -2750
BOS +1450
(CLE up 1-0)
CLE -600
BOS +450
CLE -535
BOS +420
CLE -840
BOS +480
The Celtics staged a huge comeback in Game 3 to get back in the series. Boston's win moved them back from +7000 to +3500 to win the series.
Kawhi Leonard's absence for San Antonio has been huge, and the Warriors have rolled since he left Game 1. SA is now 150:1 to come back and advance.
Below was written on May 20, 2017:
The Cavs embarrassed the Celtics again in Game 2 in Boston, winning 130-86. Isaiah Thomas will also be out the rest of the playoffs, moving their chances from 35:1 to 70:1.
Below was written on May 18, 2017
The Warriors overcame a 25-point deficit to come back and beat the Spurs 113-111 in Game 1. Golden State reached +900 on the live moneyline. Golden State moved to -1900 after their Game 1 win and -3000 after Kawhi Leonard was ruled out for Game 2. Following their win in Game 2, the Warriors moved to -6000.
The Cavs odds of winning the series improved from -600 to -2750 following their blowout win in Game 1.
Below was written on May 12, 2017:
Although many seemed to think that the lookahead price on GS/SA was too high, the market actually opened odds a little higher at GS -1100/SA +700. Early bettors were keen on the Spurs, moving their series odds from +700 to +650. The series won't start until Sunday afternoon at 3:30 pm ET, so there will likely be even more movement. Check back in for updated series odds.
Keep up with all the latest odds, betting percentages, line moves, market data and more at our Free Live Odds page.