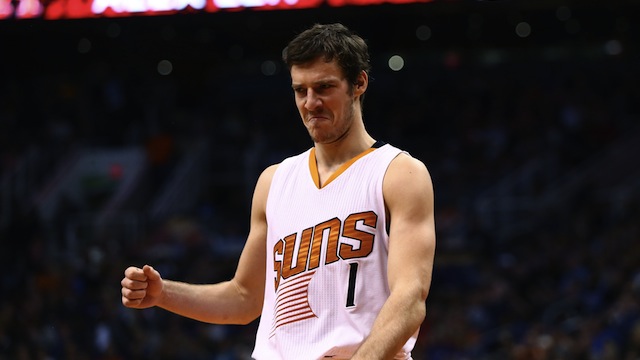 2015 NBA Trade Deadline: Impact on Futures
The 2015 NBA trade deadline was among the craziest in league history. In total eleven different trades were consummated, with much of the action coming in the last hour of the deadline. After seeing a number of major trades earlier in the season (including Rajon Rondo to Dallas, Jeff Green to Memphis and Timofey Mozgov to Cleveland) it was somewhat shocking to see this flurry of activity.
All told, 17 different teams were involved in the deadline festivities but what type of impact does each of these trades have? By analyzing 5Dimes NBA futures from Wednesday (2/18) and Friday (2/20) we were able to determine the true winners at the 2015 NBA trade deadline.
1. Minnesota receives: PF Kevin Garnett, Brooklyn receives PF Thaddeus Young
This homecoming for Kevin Garnett makes for a great story, but futures were barely affected by this move. With Minnesota already focused on tanking, their futures have been taken off the board entirely. As for Brooklyn, their odds to win the championship remain unchanged at +50,000 while their odds to win the Eastern Conference are also unchanged at +20,000.
2. Miami receives: PG Goran Dragic, SG Zoran Dragic, Phoenix receives: SF Danny Granger, SF John Salmons, Two 1st round picks
Most NBA experts are already deeming the Heat the winners of the 2015 NBA trade deadline after acquiring All-Star point guard Goran Dragic for spare parts and late draft picks. The odds if Miami winning the title this season jumped from +20,000 to +15,000 while their odds of winning the Eastern Conference are unchanged at +8,000.
It should be noted that yesterday Chris Bosh was ruled out indefinitely after doctors found a blood clot on the All-Star big man. Even so, at least one offshore sportsbook has already been pounded with Heat money:
Lot of action on Miami Heat at 50/1 to win East, so moved them to 30/1.

— Top Bet (@topbetsports) February 20, 2015
3. Phoenix receives: PG Brandon Knight, PG Kendall Marshall, Milwaukee receives: PG Michael Carter-Williams, C Miles Plumlee, PG Tyler Ellis, Philadelphia receives: 2015 1st round pick (via Lakers)
This was perhaps the most shocking trade of the deadline. Milwaukee has been arguably the most pleasant surprise in the league this season, as their 30-23 record currently puts them in 6th place in the East. A large part of that success can be attributed to Knight, who has averaged 17.8 points, 4.3 rebounds and 5.4 assists per game this season.
For Philly, their commitment to tanking continues to amaze. After winning Rookie of the Year last season, Carter-Williams was shipped off for the Lakers 2015 1st round pick, which is top-5 protected.
While Philly's futures have been off the board for some time now, the Suns title odds actually dropped from +18,500 to +20,000 while their odds of winning the Western Conference remain unchanged at +7,500.
4. Boston receives: PG Isaiah Thomas, PF Jonas Jerebko, SF Luigi Datome, Phoenix receives: SG Marcus Thornton, 2016 1st round pick (via Cleveland), Detroit receives: SF Tayshaun Prince
We already touched on the impact of the Suns multiple trades, but Boston continued their busy season by acquiring the dynamic Isaiah Thomas. Currently 1.5-games behind the 8th place Heat in the playoffs standings, the Celtics title odds (+75,000) and conference odds (+27,500) both remain unchanged.
5. Detroit receives: PG Reggie Jackson, Oklahoma City receives: C Enes Kanter, SF Steve Novak, PG D.J. Augustin, SF Kyle Singler, Utah receives: C Kendrick Perkins, PF Grant Jerrett, Tibor Pleiss, 2017 1st round pick (via OKC), 2016 2nd round pick (via Detroit)
The Thunder are currently tied with the Suns for the 8th spot in the Western Conference, but I can guarantee that nobody wants to face OKC in the first round. With Durant and Westbrook both healthy, the Thunder were able to improve their most noticeable hole — post scoring. Kanter should provide a nice complement to Serge Ibaka in the front court, and clearly oddsmakers agree. Since Wednesday, the Thunder's title odds moved from +950 to +825 while their odds of winning the West surged from +550 to +450.
The Pistons also filled the hole left when Brandon Jennings suffered a season ending injury by acquiring PG Reggie Jackson. Stuck behind Westbrook in Oklahoma City, Jackson could flourish with starters' minutes in Detroit. That said, Detroit's title odds actually dropped from +35,000 to +50,000 and their odds of winning the East dropped from +13,500 to +20,000. Apparently oddsmakers believe that the addition of Jackson does not outweigh the losses of Singler and Augustin.
6. Portland receives: SG Arron Afflalo, SF Alonzo Gee, Denver receives: PF Thomas Robinson, SF Will Barton, PF Victor Claver, 2016 1st round pick, 2016 2nd round pick
Portland was in desperate need of wing depth, and they solved the problem in a big way by adding Arron Afflalo from the Nuggets. The Blazers odds of winning the championship soared from +3,300 to +2,300 while their odds of winning the West moved from +1,600 to +1,250. Based on the changes to their implied odds, oddsmakers seem to believe that Portland was the most improved team at the 2015 trade deadline.
7. Houston receives: PG Pablo Prigioni, New York receives: SG Alexey Shved, two 2nd round picks
8. Houston receives: SG K.J. McDaniels, Philadelphia receives: PG Isaiah Canaan, 2nd round pick
After a hot-start McDaniels has cooled off dramatically, but don't sleep on this trade. The rookie guard provides a level of defense and athleticism that Houston sorely needed. These two moves help improve the Rockets depth although their odds of winning the West dropped from +1,100 to +1,350. Perhaps oddsmakers were already anticipating a larger trade (i.e. Goran Dragic), or perhaps this drop off is due to the additions made by other Western Conference teams like Portland and Oklahoma City.
9. Sacramento receives: PG Andre Miller, Washington receives: PG Ramon Sessions
The Wizards got younger at point guard and saw their odds of winning the Eastern Conference climb from +1,500 to +1,425 while their odds of winning the title remain unchanged at +3,500.
10. Philadelphia receives: C JaVale McGee, F Chukwudiebere Maduabum, 2015 1st round pick (via OKC), Denver receives: SF Cenk Akyol
This trade features two cellar dwelling teams and had no impact on betting futures. Essentially Philadelphia was willing to take on McGee's outrageous contract in exchange for yet another draft pick.
11. New Orleans receives: PG Ish Smith, Latavious Williams, draft considerations, cash, Oklahoma City receives: draft considerations
This is another minor trade with no impact on title futures. The Pelicans, who are 1.5-games out of the 8th seed in the Western Conference, are currently +20,000 to win the championship and +7,500 to win the West.