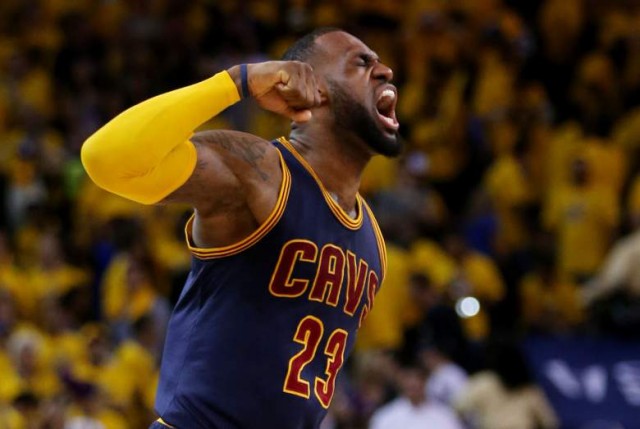 2015 NBA Finals: Game Three Preview
After two straight nail biters at the Oracle Arena, the NBA Finals are tied at 1-1 as the series heads back to Cleveland. In Game 1, Golden State (-6) was not covering the spread until overtime, where a 10-2 run lead them a 108-100 victory.
The #Warriors weren't covering the 6-point spread at any point during regulation: pic.twitter.com/34CKZUpLSs

— Sports Insights (@SportsInsights) June 5, 2015
Following the game, news broke that Kyrie Irving would miss the remainder of the playoffs due to a serious knee injury causing Cleveland's title odds to plummet from +330 to +500.
Fearing the prospect of falling behind 2-0, LeBron James played perhaps one of the most impressive games of his already spectacular career, finishing with 39 points, 16 rebounds and 11 assists. This emotional victory moved Cleveland's title odds from +500 to +190 at 5Dimes.
For tonight's Game 3 matchup Cleveland opened as a 1-point favorite at the market-setting Pinnacle sportsbook and, according to the trends available on our free NBA odds page, are currently receiving just 28% of spread bets. This one-sided public betting has moved Cleveland from -1 to +1.5 across the sports betting marketplace.
The line graph below, which is available to Sportsbook Insider customers, displays how the line movement and betting trends have moved since opening on Sunday evening.

According to our Bet Labs software, no team has ever received less than 31% of spread bets during the NBA Finals. With Cleveland currently receiving just 28% of spread bets, this may finish as the most lopsided bet game in the past decade. For what it's worth, home teams receiving less than 40% of spread bets have gone 136-110 (+19.39 units won) during the NBA playoffs.
It's interesting to note that when 5Dimes initially posted look-ahead lines for this entire series, the Cavs were listed as 2.5-point favorites. However, those lines were posted when Kyrie Irving was still expected to play. Perhaps the more intriguing aspect in this game involves the total.
In Game 1, the total dropped from 204 to 203.5 at Pinnacle despite 69% of bettors taking the over. Although 208 combined points were scored, it took an extra five minutes of overtime for the game to go over. In Game 2, the total dropped from 201.5 to 199 despite 66% of bettors taking the over. Even with the extra time, the under easily cashed.
With a physical brand of defense being played by both teams, oddsmakers once again opted to drop the total for Game 3. The over/under opened at 196 at Pinnacle and, despite 63% of early bettors taking the over, the total has dropped 2-points to 194. That means that the current total is actually 10-points lower than the Game 1 opener.
Aside from two low-scoring games and a slower pace than many expected one reason for the totals significant decline could be tonight's officials:
Three under refs in Game 3 of the #NBAFinals

Marc Davis 269-222, +35.2u
Dan Crawford 264-228, +27.1u
Derrick Stafford 227-210, +6.3u

— Sports Insights (@SportsInsights) June 9, 2015
All three officials have been profitable for under bettors, including Marc Davis who has been the fourth most profitable under ref in our database. Oddsmakers were clearly going to lower the total for Game 3 regardless of the refs, but it will be interesting to see whether the Game 4 total is slightly higher than 194.
Right now only one bet signal has been triggered on this game — a reverse-line movement alert from Bovada (28-23, +1.5 units won) on Cleveland +2. Right now Bovada is the only major sportsbook offering Cleveland +2 with most of the marketplace listing the Cavs as a 1.5-point underdog. However, there are a handful of books (including multiple Vegas books, the Greek and Carib) offering Golden State -1. This once again highlights why bettors should always shop for the best line.
Have any questions for the staff at Sports Insights? Utilize our live chat to speak with a customer service representative or e-mail us at help@sportsinsights.com.
David Solar is the Content Manager for Sports Insights and can be reached directly at David@sportsinsights.com.