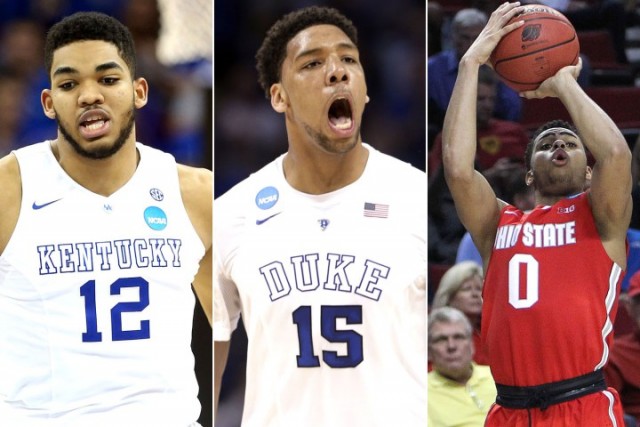 2015 NBA Draft: An Oddsmakers View
The 2015 NBA Draft will take place on Thursday, June 25th and it will once again be held at the Barclays Center in Brooklyn, New York. In addition to the automatically eligible entrants (which includes players who have competed their four years of college eligibility) there have been 49 early entrants and 43 international players who have declared for this year's draft.
Although the first fourteen picks won't be finalized until the lottery drawing on May 19th, the offshore sportsbook TopBet has posted a number of prop bets regarding the 2015 NBA Draft. The lottery selects which teams will receive a top three pick, with other teams picking based on their winning percentage from the past season. This year the top candidates for the first overall pick include the Timberwolves (25%), Knicks (19.9%), 76ers (15.6%), Lakers (11.9%) and Magic (8.8%).
Most NBA draft experts will argue that teams drafting in the lottery should draft the best player available as opposed to picking for need. Oddsmakers likely agree with this ideology, which is why they are comfortable posting NBA Draft odds before the order is known.
Right now, Kentucky's Karl-Anthony Town is listed as a -800 favorite to be selected with the first overall pick. Using that data along with a number of additional props, we were able to compile our top five projections and compare that analysis with some of the more prominent draft experts.
| Pick | Oddsmakers | NBADraft.net | Draft Express | Chad Ford | Jeff Goodman |
| --- | --- | --- | --- | --- | --- |
| 1 | Karl-Anthony Towns | Karl-Anthony Towns | Karl-Anthony Towns | Karl-Anthony Towns | Karl-Anthony Towns |
| 2 | Jahlil Okafor | Jahlil Okafor | Jahlil Okafor | Jahlil Okafor | Jahlil Okafor |
| 3 | D'Angelo Russell | D'Angelo Russell | D'Angelo Russell | Emmanuel Mudiay | D'Angelo Russell |
| 4 | Emmanuel Mudiay | Emmanuel Mudiay | Emmanuel Mudiay | D'Angelo Russell | Emmanuel Mudiay |
| 5 | Justise Winslow | Justise Winslow | Willie Cauley-Stein | Kristaps Porzingis | Justise Winslow |
Although Duke C Jahlil Okafor seemed to be the consensus favorite for the first overall pick throughout the season, oddsmakers and bettors clearly disagreed. In fact, within the past two weeks Okafor has moved from +200 to +500 to be selected number one.
Who will be the 1st overall pick in the 2015 NBA Draft? (via TopBet)

K Towns -300
J Okafor +200
D Russell +2000
E Mudiay +2500
Field +2000

— Sports Insights (@SportsInsights) April 21, 2015
It's also interesting to note that the odds of Towns being drafted first and Okafor being drafted second are currently -200. Perhaps I'm in the minority, but it seems highly plausible that Okafor would slip past the number two pick. Spacing has become increasingly important in today's game and a back-to-the-basket big man who can't protect the rim or stretch the defense does not appear to have exceptional value.
Need further evidence? Just look at the remaining playoff teams who all start athletic, defense-oriented centers — most of whom have limited offensive game. Marc Gasol, DeAndre Jordan, Joakim Noah, Marcin Gortat, Andrew Bogut, Timofey Mozgov, Dwight Howard and Al Horford are all exceptional rim protectors but only Gasol, Horford and Howard offer anything on the other end of the floor.
There are three compelling wing players whose skills translate exceptionally well to the NBA game — all of whom seem like candidates to leapfrog Okafor. D'Angelo Russell, Emmanuel Mudiay and Justise Winslow are all athletic wings who can all create off the dribble and stretch the defense. These are the types of players who have recently excelled.
At the time of publication, Russell was a -130 favorite to be selected ahead of Mudiay (+100) while the over/under on Winslow's draft position was set at 5.5 (with the under being slightly juiced up). This allowed us to slot these players into the 3rd, 4th and 5th picks respectively.
TopBet also set an over/under on the draft position for Wisconsin's Frank Kaminsky (13.5) and Duke's Tyus Jones (16.5). We expect that they will add new prop bets as the draft approaches and we pass the deadline for early entrants to withdraw their names (June 15th).
---
5/20/15 Update: Following the NBA Draft Lottery (in which the Minnesota Timberwolves landed the first overall pick) the odds of Karl-Anthony Towns being selected with the top pick dropped slightly from -800 to -700. On the flip side, Okafor's odds of being the first pick moved from +500 to +300.
It was also interesting to note the significant discrepancy between the odds at TopBet and Bovada:
1st Overall Pick in the #NBADraft (Bovada vs. TopBet)

Karl Anthony Towns (-200 | -700)
Jahlil Okafor (+175 | +300)

— Sports Insights (@SportsInsights) May 20, 2015
Have any questions for the staff at Sports Insights? Utilize our live chat to speak with a customer service representative or e-mail us at help@sportsinsights.com.
David Solar is the Content Manager for Sports Insights and can be reached directly at David@sportsinsights.com.