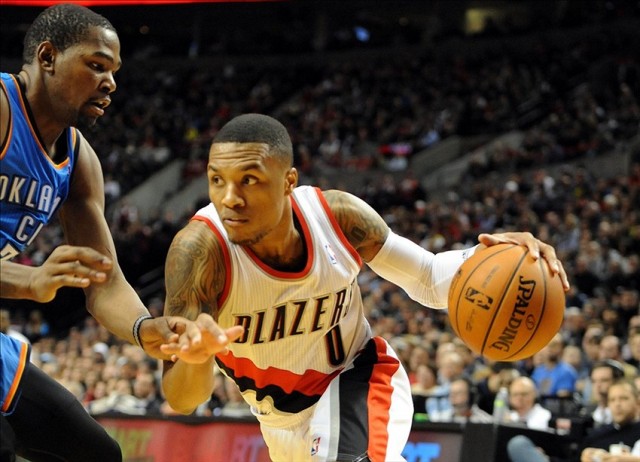 2014-15 NBA Betting Against the Public Report
Betting Against the Public is one of the most popular yet basic sports betting methods used here at Sports Insights. Our longstanding philosophy has been to see which side the public is loading up on by utilizing our public betting trends from seven contributing offshore sportsbooks, and then simply bet the other side.
You've heard the expression the house always wins? Betting against the public typically ensures that you're on the same side as the house and has been a historically profitable strategy across all six major US sports.
Before the start of every season we reveal the optimal betting percentage threshold when betting against the public while trying to exploit the newest filters that have been added to our Bet Labs software.
Our first step in creating a winning contrarian system was to narrow our focus to solely road teams by selecting the "Home/Visitor" filter. As we've expressed many times, home field advantage is vastly overrated in every sport with the exception of baseball. To that point, NBA road teams have gone 5,835-5,579 ATS (-4.24 units) since the start of the 2005-06 season while betting all home teams over that period would have resulted in a loss of just over 548 units.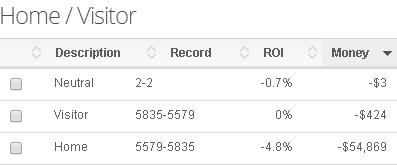 Once we had established a good starting point for our system, it was time to layer on our contrarian strategy by utilizing the "Spread %" filter. Although the most basic betting against the public strategy did not improve our system, we did find that the more lopsided the game was, the more our return on investment (ROI) increased.
| Betting Percentage | Record | Units Won | ROI |
| --- | --- | --- | --- |
| <49% | 2,719-2,615 | -24.58 | -0.5% |
| <40% | 1,349-1,266 | +19.03 | 0.7% |
| <35% | 784-686 | +61.58 | 4.2% |
| <30% | 326-282 | +28.68 | 4.7% |
Although the highest ROI correlates with visitors receiving less than 30% of spread bets, we will focus on teams receiving less than 35% of spread bets due to the significantly larger sample size and units won. We will also eliminate the 10 favorites fitting this criteria (4-6 ATS) by selecting underdogs from the "favorite/dog" filter.
While this basic system could be bet with confidence, there are two additional factors that I've long believed can be beneficial for NBA road dogs:
Underdogs perform better in low-scoring games because it makes each point on the spread more valuable
Underdogs perform better in conference games due to their familiarity with the opponent
To test these two theories, we wanted to focus on games with over/unders of less than 200 by utilizing our "closing total range" filter and by selecting conference from the "conference/non-conference filter. As you can see from the screenshot below, this increased our ROI from 4.2% to 5.2%.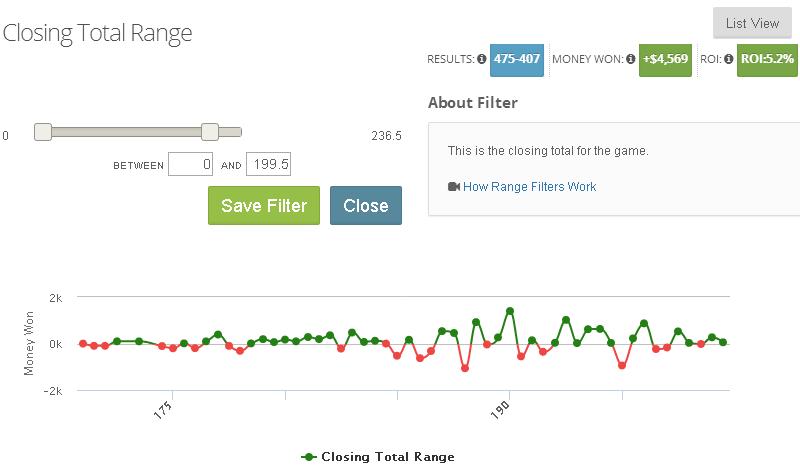 While these results fell in line with expectations, the most staggering improvement came when we narrowed our focus to examine conference games. While non-conference games fitting these criteria have actually posted a losing record (169-185, -24.41 units), teams fitting this criteria have gone an incredible 306-222 for +70.1 units and a 13.3% ROI when playing a conference opponent. It's also interesting to note that this system has been profitable during the postseason as well with a 22-15 record (+6.17 units) which brings the overall record to 328-237 ATS (+76.27 units).
The results graph depicted below shows that this system has been consistently profitable, with only one losing season (39-39 for -0.56 units in 2008-09) in the last decade. That record includes a 145-96 ATS record (+42.99 units) over the past four seasons. With consistent year-to-year results, a significant sample size, and a strong driving hypothesis, this system meets all three major characteristics of a winning betting system.


We offer a 6-day Bet Labs trial for anybody interested in creating their own winning NBA betting systems, but Pro customers have full access to our Best Bets and Bet Signals along with real-time odds, public betting trends and much more.
We've also introduced a new free NBA odds page where bettors can access odds, injuries, futures and other valuable information. Current Bet Labs customers can also copy this system from the Think Tank to receive all current game matches via e-mail or text message.
Have any questions for the staff at Sports Insights? Utilize our live chat to speak with a customer service representative or e-mail us at help@sportsinsights.com.
2/28/15 Update: This system has gone 14-2 ATS (+11.43 units) during the 2014-15 season and is now 346-244 ATS (+86.52 units) overall.