SportsInsights.com members experience a wealth of sports betting information updating in real time right in front of their eyes. From our revolutionary live odds page to our injury reports and alerts, SportsInsights.com ensures that our members have the most up-to-date betting related information available throughout the day.
Live Odds Page
Our live odds page is the "headquarters" for SportsInsights.com members. On this page, our members can see in real time when the lines move from 40+ sportsbooks. With the fastest odds updates in the business, SportsInsights.com members have a huge advantage over other gamblers and larger wallets to show it! Click the picture below for a larger example of our live odds page!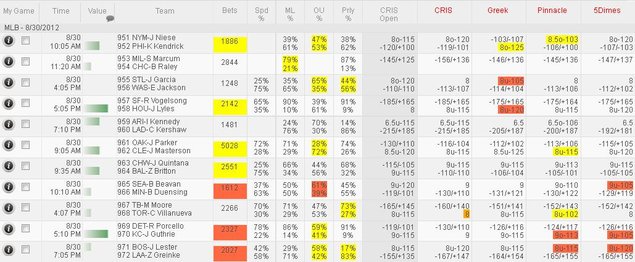 Injury Alerts
We realize how important a role injuries play in the sport betting world, and as a result our staff of injury experts works constantly throughout the day to make certain that every important injury is reported and made available to our members as soon as possible. Our members can look at complete injury reports for every major sport directly from our live odds page, as well as receive injury alerts for major injuries as browser pop-ups, e-mails or text messages.
Scoring Updates
Once you've placed your bets for the day you're going to want to follow your teams, and SportsInsights.com makes it possible to follow the game score while also keeping an eye on the lines and staying updated on injuries. Our live odds page updates game scores for games in progress just seconds behind the real time action, allowing you to keep an eye on the score from the live odds page, where the lines will continue to update, second half lines will come in, and major injuries will pop-up.
Weather Reports
In addition to our odds, injuries and scores, SportsInsights also brings you up to the minute weather reports for all the major outdoor sports. An updated report can be seen for any game at any time, and we also offer weather alerts when weather and wind (speed and direction) shift drastically for an upcoming game. Click on the picture below for a larger example of our weather report for a football game.
It's easy to see why SportsInsights.com provides its members the ultimate gambling experience. Don't waste any more time, and especially money, without us!