SportsInsights.com's Enhanced Injury Coverage
SportsInsights.com has recently undergone some huge changes in the way that we gather and report injuries to our members. We want to make sure you are aware of these positive changes and are taking full advantage of them. Read on to learn how we've changed and the different ways you can reap the benefits.
Gathering Injury News
In the past, SportsInsights.com relied on just a few injury sources to gather information to report to the members of our site. Now, SportsInsights.com has access to over 500 major injury sources that are monitored constantly throughout the day. Our dedicated team of injury experts actively scours websites, blogs, and local papers for breaking injuries news to report to our members as it breaks. We aggregate information from multiple sources and extract the most accurate and the most important information to display to our users. We update player statuses in real time because we understand how important it is for our members to be as well informed as possible.
Reporting Injury News
We want to make it easier for you to get the information you want, so we have implemented some exciting new features for our members to utilize.
Injury Report Page
Many enhancement have been made to our main Injury Report page, found by clicking the "Injuries" link from the main page or live odds page:
First, we have assigned the following statuses and formatting to each player in order to make the more important injuries stand out and easier to spot: Red font indicates a "Key Player." Bold font indicates a Starting Player. Second, each injured player will have a separate field for commentary, making sure that only the most concise and relevant information appears on the Injury Report. To read any notes or commentary left by one of our injury experts, simply hover your mouse over the blue-highlighted "Notes" text. Our goal is to make our injury updates as brief as possible while including the most important and accurate information we have available.
In addition to our main injury report that lists every injury, team-by-team, for each major sport, you can also access injuries directly related to a specific game by clicking on the "Info" link next to a game, and then selecting "Injuries". This is the ideal way to check on why a game is circled as it will show you all related injuries in player priority order.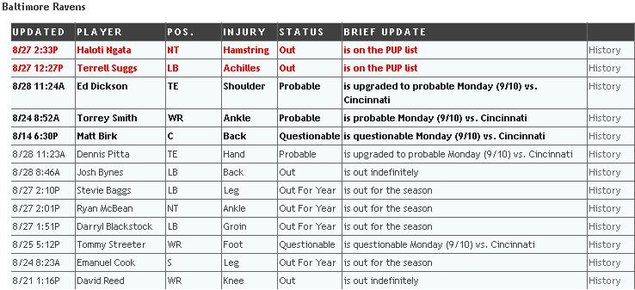 Injury Alert E-Mails and Text Messages
We want you to have access to breaking news at all times, so we have expanded the ways in which you can can receive injury alerts. In addition to injury alert pop-ups, we have implemented injury alert e-mails and text messages so that you can remain informed even when you're not logged in. These injury alerts will only include breaking news related to key players, so you won't be flooded with e-mails or texts. You will simply receive the most important messages throughout the day, and you can expect no more than one to five injury alerts on any given day. In order to receive these alerts, click the "Settings" link at the top of the main page or live odds page, then click "Alerts", and finally scroll down to "Injury E-mail" and "Injury Pop-up" and turn them on for the sports you desire. At the top of the "Alerts" page, you will see the option to enter your e-mail address and you can choose to receive alerts as e-mails or text messages to your phone.
For Sports Insights text message alerts, you need to use the email address provided by your mobile carrier. Below is a list of some major mobile providers. (the "#" sign represents your 10-digit mobile phone number)
| | |
| --- | --- |
| Verizon | #@vtext.com |
| AT&T | #@txt.att.net |
| AT&T Blackberry | username@att.blackberry.net |
| Sprint | #@messaging.sprintpcs.com |
| Nextel | #@messaging.nextel.com |
| T-Mobile | #@tmomail.net or alias@tmomail.net |
| Alltel | #@message.alltel.com |
| US Cellular | #@email.uscc.net |
| Virgin Mobile | #@vmobile.ca |
Overnight Injury Report and Newsletter
Posted each and every day at approximately 10:00am ET, the Overnight Injury Report tracks which players were injured during the previous day and provides updates when their is significant news on injured players and their rehab. Our members can always view the most recent report by following the link posted to the "What's New" section of our main page each morning, but we wanted to make things even more convenient for our users. Now, we offer the ability to subscribe to the Overnight Injury Report as a daily newsletter, delivering the report directly to your inbox each morning. This feature is completely free and you can unsubscribe at any time. If you would like to read further about SportsInsights' newsletters and subscribe, please follow this link.