Our live odds page combines real-time updates with advanced customization to bring SportsInsights.com members the best live odds product in the business. SportsInsights offer many ways for our members to choose what information they want to appear on their live odds page. All customization is easily accessed through the "Settings" tab, found in the top right corner of the page:

General Column Settings
The "general column" settings tab gives our members the option of turning on or off various display columns on our live odds page. The default view displays maximum information, but our users can turn off any features they find unnecessary to reduce clutter on their personal live odds page.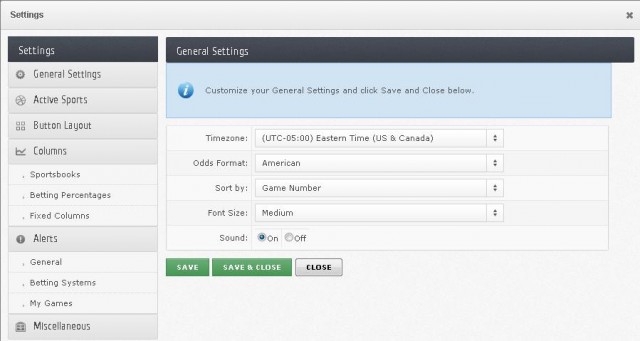 Sportsbook Settings
The "sportsbook" settings allows our users to input exactly which sportsbook's lines they want displayed on their live odds page and in what order. Additionally, these lines can be further customized by choosing to display the lines as spreads or moneylines/pucklines, and our members have the option of choosing to display any combination of opening lines, full game lines, or first half/5 inning lines for each sportsbook.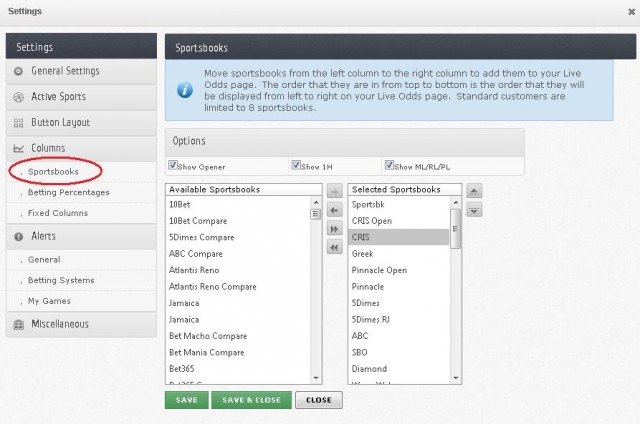 Sports Settings
The "sports" settings enables our members to choose which sports they want to see lines for, as well as how they would like the sports tabs to be displayed. For instance, by checking the "Football" tab in addition to the individual football subfields desired (NFL, NCAA, etc.), the live odds page will display only one tab for football, under which all football lines will be displayed for all the football leagues selected. On the other hand, by leaving "Football" unchecked but keeping both "NFL Football" and "NCAA Football" subfields checked, the live odds page will contain separate tabs for NFL and NCAA lines.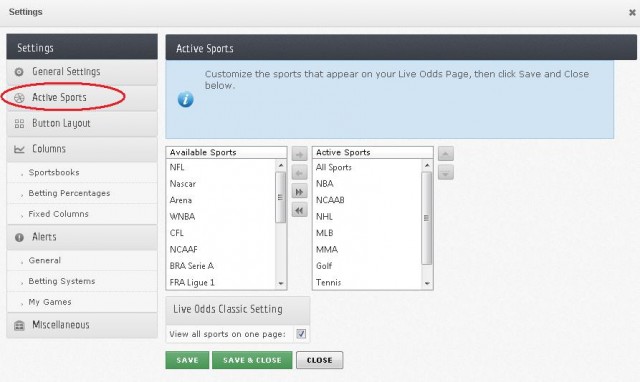 Miscellaneous Settings
The "misc" settings allow for greater customization of our member's personal preferences. Adjustments can be made by our member's for their time zone, font size, sounds, popups, and various other preferences.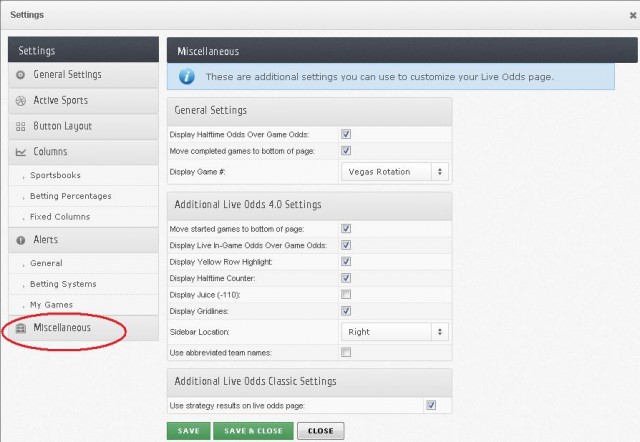 Live Odds Settings
Finally, further customization can be achieved through various buttons and drop-down menus on the live odds page itself. Here, our members can change what type of lines (spread, moneyline, etc.) they want displayed, what lines they want (1st half, 2nd half, or full game), and how they want their lines sorted (by game number, game time, number of bets, etc.). Additionally, the "zoom" feature, which causes the live odds page to "zoom in" on only team names and odds, can be turned on or off with a click of a button.
It's easy to see why SportsInsights.com provides its members the ultimate gambling experience. Don't waste any more time, and especially money, without us!