Sportsbook Insider Live Odds Page Screenshots
1. Value Meter
Our new Value Meter analyzes Contrarian Value, Steam Moves, Smart Money Plays, Key Injuries and Official/Referee trends for every matchup on the board to quickly show which games are offering the most value.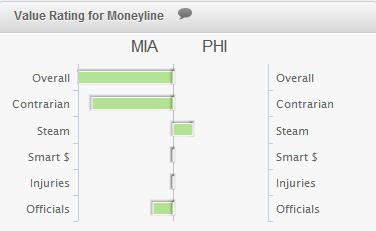 2. Referee/Umpire Stats and Trends
Instantly access runs/points per game, home/away bias and over/under bias for referees and home plate umpires.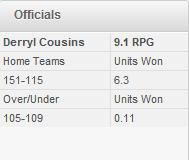 3. Game Information Dashboard
With one simple click, members can access all pertinent information specific to each game, including Public Betting Percentages, Line-Movement graphs, key injuries, Betting System Plays, Weather, Referee/Umpire information and trends and Value Meter Rating.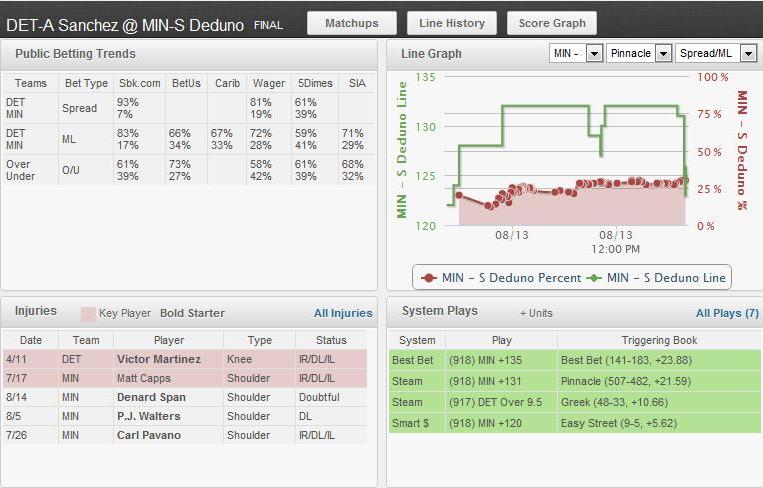 4. Redesigned Matchup Page
By clicking on "Matchups" within the game dashboard, members can access game-specific statistical comparisons, including ATS trends, recent bullpen usage, head to head results, recent performance of each starting pitcher and much more.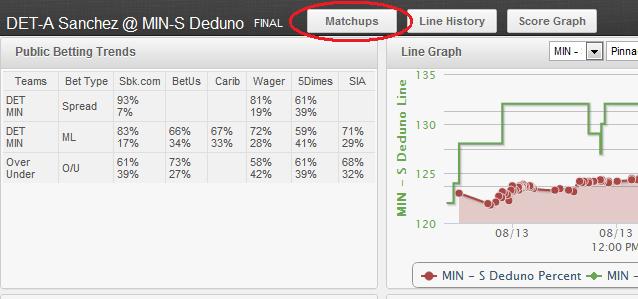 5. New Sort Options
Our newest Live Odds page makes sorting information columns much easier. By simply clicking the column header, members can instantly sort by:
Game Time
Number of Bets
Spread, Moneyline, Over/Under and Parlay Betting Percentages
Game Number
Value Meter Rating
Members can also visit settings to default Live Odds to sort by either Game Number or Game Time.
6. Frozen Headers/Rows
Fixed game information rows and sportsbook column headers allow members to scroll both horizontally and vertically without losing key game or sportsbook information.
7. Customizable Button Bar
By visiting the settings, Live Odds gives members the opportunity customize the buttons/features that appear on their live odds page.
8. Lineups Page

9. Enhanced My Games Feature
Simply click on the check box next to each matchup to add an important game to My Games. Members can customize My Games alerts to include Lineups, Weather, Final Scores and Injury alerts via popup, email or smart phone push alert.
10. Urgent Injury Updates
With one click of the "Urgents" button, members can instantly see the most recent injury alerts for key players.

11. Enhanced Line Watcher Alerts
Our improved Line Watcher can be setup to alert members via popup or email whenever a game, 1st half and/or 2nd half line hits a desired Moneyline, Spread or O/U.