Through one of our contacts in the sports information industry, we were able to obtain an early copy of a new book: "Who Will Win the Big Game?  A Psychological & Mathematical Method."  This book is written by a sport psychologist and a mathematician / quantitative researcher — and has some interesting results that we're sure our Members will find useful.  Much of the research focuses on factors related to sport psychology — and interestingly, quantifies many of the results.  For example, you can learn relevant tidbits like: the team that has more Super Bowl experience has won the Super Bowl 64% of the time.  This is just one — of several dozen — sports results you will find in this book.
The book and its research has interesting implications for "finding value" across all sports.  In this article, we'll highlight some key Super Bowl factors for our Members.  We'll also provide a book review so Members can learn more about this new book.  The information on this site is for entertainment and educational purposes only. Use of this information in violation of any federal, state, or local laws is prohibited.
Book Review: "Who Will Win the Big Game?  A Psychological and Mathematical Method"
This new book, written by Dr. Jay Granat, PhD, a sport psychologist — and Carlton Chin, an MIT-trained quantitative researcher — offers some new insight and quantifiable edges in the sports world.  The authors focus on factors that are related to sport psychology and use statistical analysis to back up which factors really make a difference in "who wins the big game."  Their title includes the phrase "Fifty Championship Characteristics" — and they quantify many of these traits based on an analysis of major sports championships.  Some of the key factors they have researched and quantified, include:
– Coaching Leadership,
– "Big Game" Experience,
– Ability to perform with minimal errors,
– Leadership of Star Players, and
– "Consistency" Performance Measures.
We have all heard about — and discussed — many of these factors, but it is nice to see research that shows actual numbers and results.  Some of the book's research has been mentioned in the New York Times and the Wall Street Journal.  Below is an example from their book, that highlights one of the strongest factors that crops up across all of the major sports.
Chart: "Big Game" Experience
Championship Winning Percentage in Recent Years 

for Teams with "More Experience"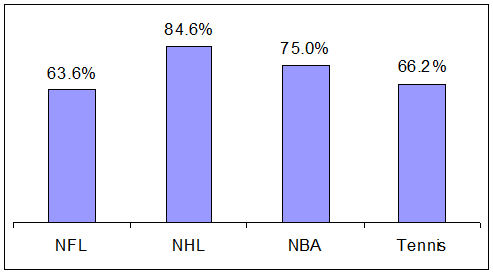 Source: "Who Will Win the Big Game?  A Psychological and Mathematical Method" by Granat and Chin
We believe that some of this research can be used to by sports investors to obtain value in the sports marketplace.  Interestingly, many of the factors Granat and Chin have researched — are generally overlooked by the general betting Public — as well as by professional sports gamblers.  This means that there could be some "value" in their findings.  The book includes analysis of all the major sports, including: football, baseball, basketball, hockey — and even tennis and golf.  Our Members should find this book useful in their handicapping and give them ideas for interesting angles and trends, especially during the playoffs.
Super Bowl Factors – Psychological and Mathematical
Based on the research from the book "Who Will Win the Big Game?" — some of the strongest factors related to success and "peak performance" in the Super Bowl are listed below.  This research is based on every Super Bowl to date.  In combination, the authors state that the key "psychological measures" they studied yielded a 78% winning percentage on historical data.  Note that this is a "straight-up" victory, with no point spread.  However, these factors do have "positive value" ATS (against the spread) as well as "straight-up."  Conservatively, we estimate that this would translate to just under 60%, against the spread.
Recent experience in the Super Bowl
Better defense (Points Against)
Team with fewer interceptions during the regular season
Confidence (More double-digit wins)
Consistency measure (Running game)
Super Bowl Scorecard
So what do all of these tidbits of information say about this year's Super Bowl?  And what do some of Sports Insights' own tools say about the big game?  Below is a scorecard showing the factors for Sunday's match-up between the Colts and Saints.  Enjoy the game!
Disclaimer
We do not guarantee that the trends and biases we've found will continue to exist. It is impossible to predict the future. Any serious academic research in the field of "market efficiencies" recognizes that inefficiencies may disappear over time. Once inefficiencies are discovered, it is only a matter of time before the market corrects itself.